Posts Tagged 'social studies'
Moving and Grooving!
Written on Monday, January 26th, 2009
[
permanent link
]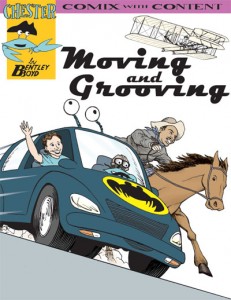 There's a new Chester Comic! Check in the MY COMIX area off the homepage to go to the area where you can see two sample pages and get a good sense of what each page covers in this grand race across hundreds of miles and hundreds of centuries! It is an attempt to give today's kids a sense of how transportation has changed over time. This book is full of races, jokes and pounding hoofbeats. This book fits well into the social studies concept books I've already done: "Comix Economix,""American Symbols," and "GOVERNMENT." (And if you check out my new order form, you'll see you can buy just one copy of each of those four, if you'd like.)
The cover joke this time is the never-bef0re-seen Chestermobile! This mean machine is 1940s Batmobile + Chester logo + my own PT Cruiser + googly Chester eyes I always thought would look good on an aqua VW Beetle . . .
The first chapter of the book has Chester and his friend Christie racing not only across the land but through time as well. As they go, jumping from one form of transportation to another, they gradually find themselves swallowed up into the modern sprawl we now call THE MEGALOPOLIS!!!! Aaaaaahhhhhhhh!!!!
In the second chapter, I shift gears. Instead of showing a race across the land and through time, I give Chester and his friend Tamara different tasks that carry them just across the land in 1902. What transportation carries them the fastest? How complicated is it to get from one place to another back then? You get the answers on the way to the story punchline — a Teddy Roosevelt moose joke!
The third chapter is about the Wright Brothers. As is typical of Chester pages, there's a LOT going on in this one. For example, on one page you get an action shot of a German daredevil falling to his demise, you get the Wrights, you get a plug for library research and then you get the science of wing lift. THEN you get a pop culture reference to a song by a Canadian pop rock band from around 1980! WHEW!
The last chapter is about the growth of our road system into the Interstate Highway system we take for granted today.
I hope  "Moving and Grooving" travels to your shelves soon. Let me know what you think!
Tags: Bentley Boyd, Chester Comix, comic book, graphic novel, highway, history, Moving and Grooving, social studies, transportation, Wright Brothers
Posted in History Teacher | No Comments »
A fantastic review!
Written on Monday, December 1st, 2008
[
permanent link
]

Chester Comix just got a fantastic review on this web page devoted to helping educators find useful comic books for their reluctant readers! This is a great site for you to bookmark after reading this fun review. (At one point they note all the social studies concepts I'm packing in, and they add, "yet Boyd does it so effectively and with such good humor (using Star Trek analogies along the way, even) that I barely realized that I was learning new things as I was reading." That's the idea!!!
http://graphicclassroom.blogspot.com/2008/11/comix-with-content-government-by-people.html
Tags: Bentley Boyd, Chester Comix, comic book, Graphic Classroom, reluctant reader, social studies, teacher
Posted in Graphic Novel Review | 2 Comments »
Colonial Williamsburg Teacher Institute groupie
Written on Sunday, July 27th, 2008
[
permanent link
]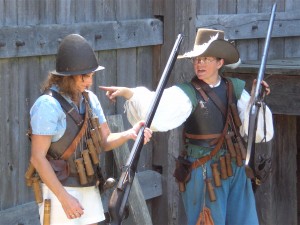 Finally, after four days of me trailing after them from Jamestown to the slave cabin at Colonial Williamsburg to the taverns to the costume shop, one of the teachers said, "Honestly, who would follow after a bunch of social studies teachers?!"
Me. I'm a hardcore groupie! I love hanging with those who think it's important to teach the next generation about the highpoints and problems and vital choices of our past. I think it will affect our future.
I've worked with Colonial Williamsburg staffers in many ways since I moved here in 1992, but it was still a welcome surprise when CW invited me to spend a week shadowing one session of their summer Teacher Institute. For almost two decades, CW has given master teachers a chance to renew their knowledge of Colonial times and pick up new tricks for making history vital. They bring in about 600 every year from across the country, many of them paid for by donors in their home state. I jumped at the chance.
I did learn some new things myself and corrected some misconceptions that had creeped in to my own knowledge base. But mostly it was just fun to see these folks from Texas and California and Wisconsin and Washington play around the Historic Triangle — they acted like it was history teacher Disneyland. One woman had spent time in Virginia as a girl in segregated days and was happy to see the story of slavery portrayed so well at Jamestown, Yorktown and Williamsburg. One woman had worked summer school in her Florida district so she could pay for this and make it a vacation with her daughter, who also teaches. Many had never been to Colonial Williamsburg and were awestruck at the detail this place offers. At the end of the week one young teacher said, "I can't WAIT to get back and NOT use my textbook!"
What can I say, I'm a history geek. Yes, yes, it's good business for me to hang with them — these 29 teachers found my comix in the various gift shops around town and went nuts for them, but that's not why I did this. My interest in education and history and kids is so strong that the transition between all the hats I now wear feels seamless to me. Often during the week I would pivot in an instant from being student to being a teacher of history. But it's ALL advocacy!
Send me a message or post to this note if you'd like more details on what I saw and did with the Teacher Institute! You can also find official info on CW's website: www.history.org/history/teaching/tchsti.cfm
Tags: Bentley Boyd, Chester the Crab, Colonial Williamsburg, comics, history, Jamestown, social studies, teachers
Posted in History Teacher | 4 Comments »