Bring a Crab to Your School!
Cartoonist Bentley Boyd will draw and talk about his books that bring social studies concepts to elementary readers using a talking crab. "Chester the Crab" has appeared in Virginia newspapers since 1999 and in his own series of books since 2003.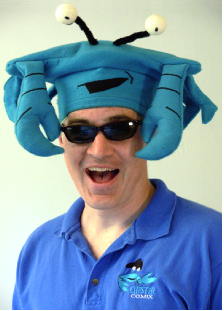 CONTENT: The presentation will cover social studies material such as history, civics, and economics. Specific comic pages will be deconstructed to show how an Author's Purpose is realized and how his work reinforces literacy lessons such as noting details and finding author's purpose. Bentley will emphasize the importance of reading and of rough draft writing and share his own career path turning those skills into a fun job. Students will feel connected to a real author who writes books they are genuinely interested in. This connection prompts a lively question-and-answer session during the final minutes of each visit!
PROCESS: The presenter will draw on an overhead as he speaks and will show color overheads of comic pages. He will also ask the audience to brainstorm a cartoon idea with him to demonstrate how comix can teach any subject matter in an entertaining way. The original drawings are donated to each school, and teachers often make copies of those for the students who attended the Author's Purpose presentation.
FEE: $200 per hour, $500 for a full morning or afternoon of different sessions; a BOOK SIGNING can be included for schools willing to promote that to parents and students in advance with materials the author will provide.
If you'd like Bentley to sign books after speaking to your students, here is an order form you can print and give to students before his appearance.
CALL 757-342-8812 or toll-free 1-866-FUNCRAB to put Bentley and Chester on your school calendar!