Welcome to Chester Comix! Inside this site you'll find fun samples of the way Bentley Boyd uses comix to spark interest in history for reluctant readers! Check what he's drawing now, go with him to weird historical sites across the country, or download a coloring page and put your own words into his drawings! This home page features my most recent news/blog entries. Learn more about my blog. Have fun! --Bentley Boyd
February 5th, 2023
Proving just how hard his shell is, Chester Comix turns 20 years old this year.

My Chesapeake Bay buddy first showed up in 1995 in the Daily Press of Newport News, Virginia, but the business that sells his adventures to young readers across the country started in 2003.

The business has survived the Great Recession. And the COVID crash. And some personal crashes. It surviving moving the whole shebang from Virginia to Ohio the fall that my dad was in hospice. That was a lot of boxes of inventory in THREE truck trips.

There has been plenty of joy. I met Weird Al and Doris Kearns Goodwin and handed them signed copies as thanks for inspiring me.


In these 20 years, I've spoken in classrooms from Boston to San Antonio, from Ohio to South Carolina. I loved driving all around the MidAtlantic with my boxes of books and speaking props and a really bright felt crab hat. I even found myself hauling boxes of Chester Comix across rain-soaked sidewalks in NYC one day. The cardboard boxes are a constant.

When I began, there was only one other cartoonist in the United States regularly creating history comix. Now history comix are published regularly, by a slew of artists of all generations. Your local comix shop probably has a whole shelf of these titles. It's not just Batman and Spider-Man anymore. I like to see what the kids are doing, and I buy what I can to support them. Some of the history comix, like "March," are true milestones in our culture. It feels like the comix scene has grown way beyond me, that it has left me and Chester behind.

But then a new fifth grader finds Chester Comix, and he lights up. And his mom or his teacher thanks me. And I light up again. And I draw some more. I've published 38 books in 20 years.

I'm proud of my small contribution to the rich diversity of comix storytelling you can find in 2023. The core Chester Comix idea wasn't that revolutionary—it is a nonfiction version of the Classics Illustrated comix made for reluctant readers in the 1950s—but along the way I did create something I've never seen anyone else do: Choice Comix! That still feels pretty special, and I plan to keep making more of those.

The first generation of Chester readers are now doctors and professors and soldiers and parents themselves. I'm on my third generation of young readers. What a tremendous blessing.

Thanks to everyone who has helped carry me across the waters when they got rough. The loans. The extra marketing pushes. The reassurances and the quiet patience. The travel to the conferences and speaking engagements. The recommendations to your child's school. Thanks to Chuck Durfor for taking the fun photo you see here!

And, yes, thanks to you folks who hauled some of the boxes.
I love you all.
Posted in Author's Purpose | Comments Off on Chester Comix at 20
July 16th, 2021
The tweet joke I saw this morning applies to me, too: I'm easy to ID check now because my birthday year begins in a "19." Don't look now, but the 21st Century is now 1/5 over!

I had the good fortune to meet one of the women that I drew on the cover of my newest book—but now even Sally Ride has passed from our timeline. I've lived more than half a century myself. "History" is overlapping me!

My new book is "Wonder Women of the 20th Century," and my next one w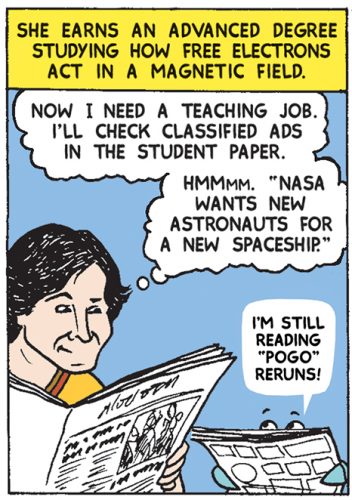 ill be about the Korea and Vietnam wars. It's an odd sensation to draw and color scenes that I remember as current events. The good news is that my experience gives me important perspective. I've seen the rise and fall of ideas. I've seen progress and retreat.

Ride was historic for being the first American woman to go to space, and now women routinely go to the International Space Station to do important research. My own perspective was that I was just another NASA fan who eagerly watched her first flight on TV – but then I got to meet her and shake her hand in my first few weeks of college in 1985 – and then just a few months later I saw her rise to the terrible task of figuring out what had gone wrong in the Challenger shuttle explosion. The nation was in shock, but she went to work to get us to an understanding that would enable our space program to continue. Ride wasn't just a historic first. She was a pivotal part of the United States space program throughout the 1980s.

Jane Addams also shaped the world we live in today, though her influence was at the very beginning of the 20th Century. (I did NOT get to meet her.) Most Americans don't know her story—which makes me want to publish and promote it even more. She helped to make social work a profession, she pushed Chicago to start the nation's first juvenile court system, and she got child labor laws passed to keep children out of factories.

Addams was one of the first stories I drew when Chester became a weekly feature in 1999, and it has one of my favorite panels: her standing in a garbage bin as a fierce champion of good sanitation for the poor sections of cities. But her story stayed out of print for 20 years after it appeared in the newspaper. When the COVID lockdown took hold in March 2020, her biography was one of the stories that I expanded and added to my smartphone app's library. Usually, I take the five pages from a Chester story in the printed books and expand the story on the app. The Jane Addams biography becomes the first story to go in the reverse direction. Adding the app panels back into the bio created a story that is seven pages in the new printed book! She deserves it 😉

And if I get a few more years to do my storytelling, I'll attempt a sequel of this sequel. Who should go in a "Wonder Women of the 21st Century"—-????
Posted in Comix Creation | Comments Off on Wonder Women of . . . MY Century!
March 4th, 2021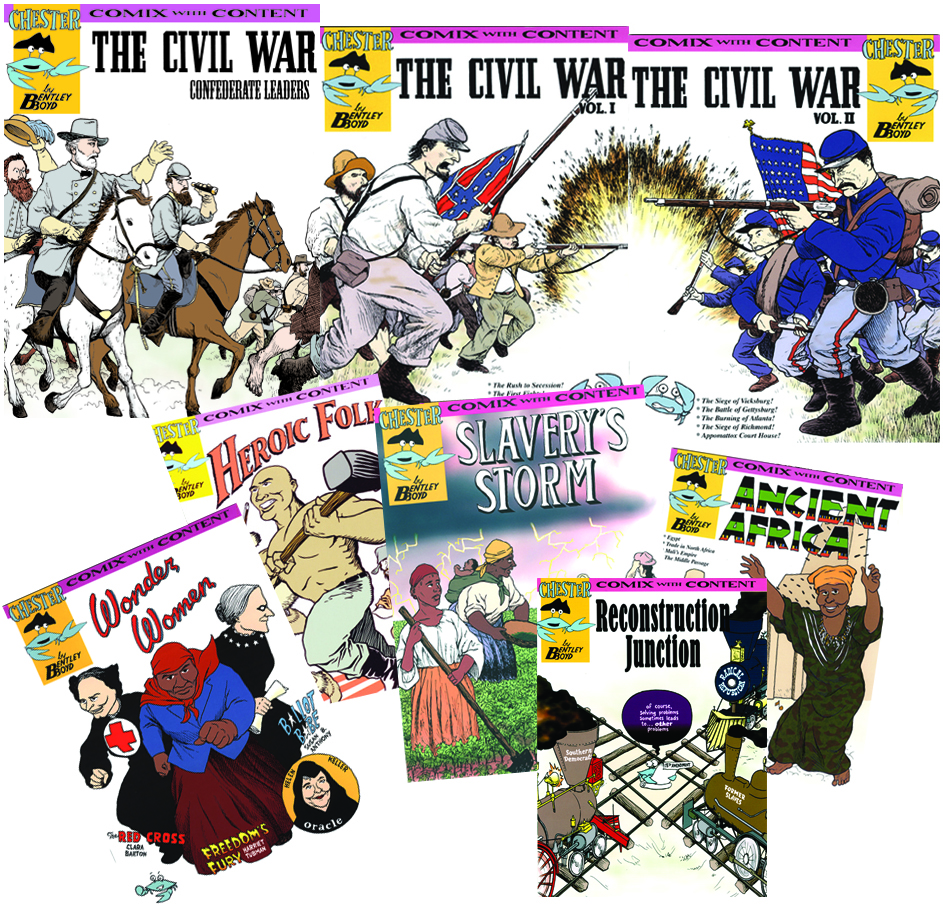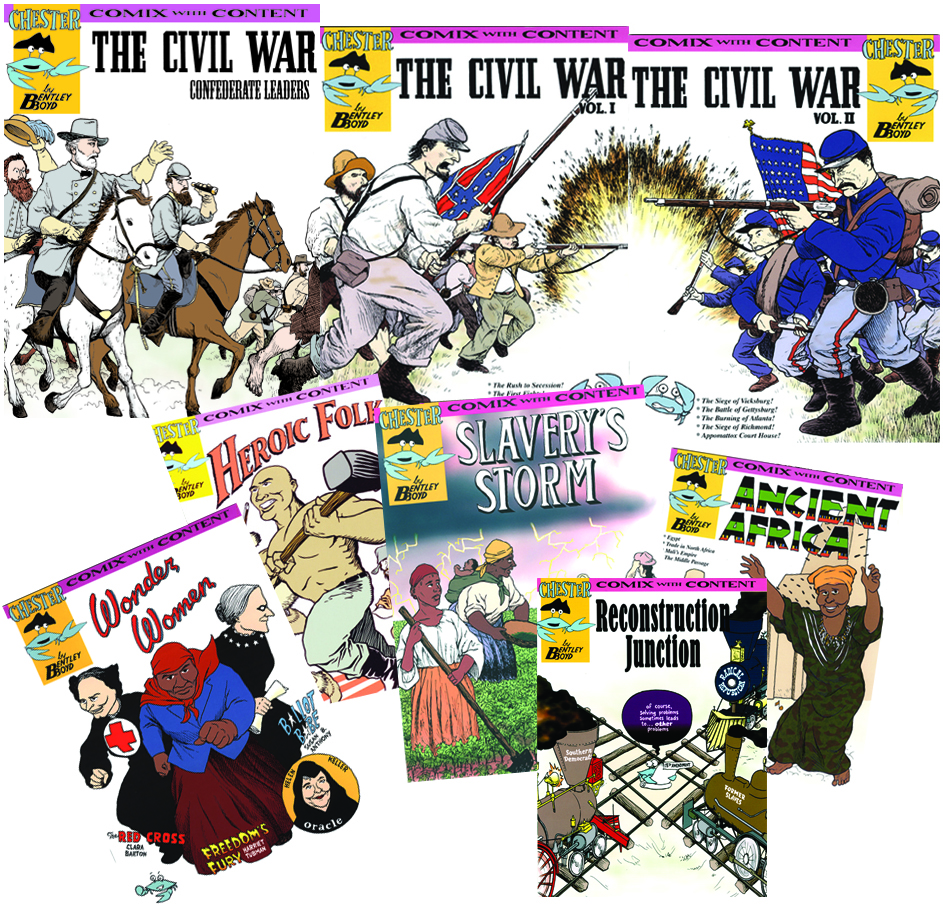 I just had another nice conversation with a customer who ordered the full set of Chester books. There are many ways to buy Chester the Crab's history adventures, but buying one of each of the printed titles is a consistent favorite. It does provoke a question: what is the correct order for reading the 30 Chester Comix?

The business of selling Chester books is in its 18th year; the sales were slow in the first years when I had just 10 titles, but things took off once I had published enough books to sell them as a "set" — a large number of books that covered most of American history. The full set feels like a great birthday or holiday gift to a young reader. When the business began in 2003, the book format was set so that each book was affordable and easy to get into the hands of a reluctant reader — so even the full set of 30 books remains very affordable for all the reading time it provides. I haven't raised my book prices in a decade.

The book format was also set to take advantage of the way I had already created these stories for the Daily Press newspaper in Virginia: as a 5-part story. The books I sell today usually have four chapters, each one a 5-part story. I've collected the four chapters around certain themes, but when I originally drew these stories, I was thinking only 5 pages at a time, not 24 pages at a time. So my series of Chester Comix books was never planned from a blank slate to march through each century at the same pace. You can get that in a textbook. Across all the Chester titles, you'll see some events mentioned in two or three different books if the event is important enough!

So what does a family do with this overlap? If you really want a chronological march, please see my order form on this site. That PDF winds generally from oldest history to newest as you look at it from top to bottom. (And you can see the "gift set" highlighted with the black box and black arrow on the right of the order form.)

But I'd rather have parents and teachers ask the young readers how THEY would order the titles! Make it a puzzle. Lay all the books on a table and see if the young person can notice similarities just from the titles and cover images. . .

Can you group all the Civil War history together? (I'd say there are 5 such titles, and they're also highlighted on the order form in a little vertical bar on the left side of the order grid: Slavery's Storm, Honest Abe, Civil War vol. 1, Civil War vol. 2, Civil War Confederate Leaders)
What books are about transportation? (I see 2: Lewis and Clark and Moving and Grooving)
Which books are collections of biographies — the life story of a person? (I'd say 7: Washington Leads the Way, Founding Fathers, Alexander Hamilton, Heroic Folk, Honest Abe, Wonder Women and Vital Virginians)
Which books take place before the American Revolution created a modern nation? (3: The First Americans, Exploring the Americas and Jamestown Journey)

Which books would be good to read during Black History Month? (I suggest 7: Heroic Folk, Slavery's Storm, Honest Abe, Reconstruction Junction, Wonder Women, Civil Rights Freedom Train and Vital Virginians)
Maybe you can find other pairings with your young person! Pairing the World War I and World War II books should be easy, but there are many other possibilities. It's a big set of books — and I'm working on another one right now about the Cold War. The good news for me is that I'll never run out of stories to tell. We make new history every day!
Posted in Author's Purpose | Comments Off on How to Read the Full Set of Chester Comix