Welcome to Chester Comix! Inside this site you'll find fun samples of the way Bentley Boyd uses comix to spark interest in history for reluctant readers! Check what he's drawing now, go with him to weird historical sites across the country, or download a coloring page and put your own words into his drawings! This home page features my most recent news/blog entries. Learn more about my blog. Have fun! --Bentley Boyd
January 29th, 2017
I actually love hacking my old cartoons to pieces.
I've been doing that a lot in the past three years, to transition Chester the Crab's adventures from the printed page to mobile digital devices. Chester's library of digital stories is now available for Android devices and for the Kindle Fire. Don't panic — I plan to keep at least 30 titles in print even as I dig hard to put more of his adventures onto the screens where today's students are reading. Adding Chester's stories to smartphones and tablets just makes good business sense. The revelation here is how interesting the transition process is to me as an artist/writer/educator/historian.
My dad was an Artist, capital A. He had gallery shows and sold his original pieces. A painter or sculptor doesn't have an editor beyond their own personal sense of mission. Having an editor is the exact OPPOSITE of the freedom an Artist needs to pursue self-expression and challenging themes. But I am not an Artist. My art is very functional and directed — it has a purpose that is fitted to my writing and my educating, like parts of a rocket that must work together to get the rocket to a specific place. I need editors to get the rocket there in the best way possible. I trained to be a journalist, so for decades I have practiced and welcomed the dynamic between an editor and a creator.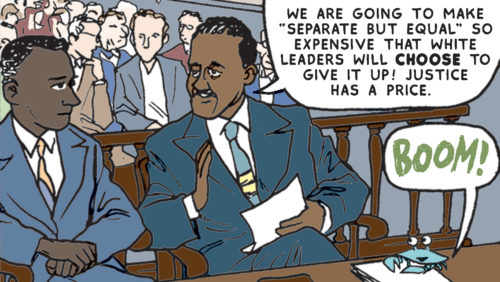 If you think your art can be edited, that means it can be changed for the better. I am terribly proud of the work I did for the Daily Press in Virginia when I created Chester in 1995 and then produced daily educational comix from 1999 to 2004. But it was also a mad dash through a burning forest to get all those stories researched, written, rough drafted, edited, drawn, colored and edited again. Fellow cartoonists couldn't believe my workload to get the stories into print on a newspaper schedule. Looking back now, 15 years later, some of those stories hold up really well. Some DON'T!!! Some of the art is painful for me to look at. And I've learned a lot more about many of these historical topics in the time since I drew for the Daily Press.
So instead of it being painful to take these big pages of cartoons and hack them down into little horizontal panels for little screens, this editing work to put Chester's old stories onto mobile devices actually feels like FREEDOM, in my own framework of making art. This transition work completely challenges my storytelling skills and makes me rethink the point of each panel. The rethinking is so revolutionary that they feel like completely new stories. Woody Guthrie kept reworking "This Land is Your Land" throughout his life, so if Woody can do it, I can do it.
Some of the changes will be unnoticeable to most readers: I have literally found commas that were backwards! Other changes may be noticeable to the sharp-eyed fans: as a writer, I've enjoyed trimming a word here and a word there to make the comix storytelling smoother and tighter and more expressive; when I trim a word or two, I often redraw the word bubble so the spacing is balanced again; that leads to a little bit more image in the panel. I can feel the art breathing better. Comix is like alchemy — there is a magic to getting just the right balance of words and pictures in each panel and across a whole page. Some of my old pages for the newspaper version of Chester were WAY OFF that balance as I rushed to cram educational information in.
A lot of the changes will be wildly obvious to longtime Chester readers — these apps have stories with entirely new panels!! But just as significant has been the turn of the images from vertical to horizontal. My space in the newspaper was vertical, so my storytelling was oriented that way. Now I'm recutting panels so that the stories are always read by holding the phone or tablet sideways. That seems to fit the flow of historical storytelling better — racing across the timeline as you swipe from panel to panel easily. Plus, Chester is wider than he is tall, anyway.
If you still want to see Chester's adventures in the exact way they were first drawn, you can buy them as iBooks for an iPad. And when we get to holograms, I'll figure out how to tell the stories there, too.
Posted in Author's Purpose, Comix Creation | Comments Off on How the art changes when it goes mobile
August 10th, 2016
This week the Chester Comix app finally hit the Google Play store for Android tablets and smartphones. Now kids and parents and teachers can download the reader app for free and find within it a bookshelf of expanded Chester adventures, for sale at a buck apiece. There are 13 stories for now, and each one has MORE drawings, MORE jokes and MORE fun historical details than the versions of these stories you have read in the printed books. It was a long slog to get this. I'll write more about it soon. But as I pushed myself through the mud of the past three years, I started to tally all the events that were going by me while the app slogged.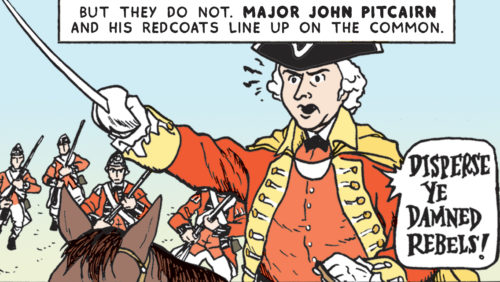 In the three years since my wonderful friends, fans and family backed my Kickstarter campaign to develop this app:
* My oldest son took a year off from college and spent it living and working in a dumpy apartment in Baltimore
* My youngest son got his First Car
* In my consulting work at Jamestown I helped promote and then assist-on-the-day-of a beautiful, sprawling re-creation of the wedding of Pocahontas and John Rolfe on the 400th anniversary of their vows
* The headgasket on that First Car blew
* My youngest son served as the editor of his high school newspaper, a job I loved having in high school; I didn't even know that high schools printed papers on paper anymore
* My youngest son graduated from high school
* My youngest son earned his Eagle Scout badge from the Boy Scouts of America
* My youngest son went off to the University of Virginia
* Uh-oh. NOW what?!?!?
* I finished a four-year project to draw and write a comic about the archaeology at Historic Jamestowne, and I turned it in and . . . well, I hope we'll all get to see that book someday
* Our beagle fell ill and was given a few days to live by the vet who had always cared for her
* The beagle lived
* My artist father inspiration co-conspirator buddy died
* I packed a moving truck to carry me away from Virginia after 23 years
* There was too much stuff for the truck so I had to make another trip
* Then I made a third trip
* The Ohio farmhouse that I was renting caught fire; the beagle and the comix survived
* I got a job in the Communications department at Kenyon College, where my artist father inspiration was teaching art when I was born
* As I searched for a new house and tried to hold the pieces of my business and life together, I spent 6 months sleeping in a sleeping bag on a hardwood floor in a dumpy apartment in the town where I was born
* My oldest son graduated from college
* THE CLEVELAND CAVALIERS BROKE THE CHAMPIONSHIP CURSE of northeast Ohio.
* I finally got my sons to a Joe Jackson concert
And then the app went on sale. Please check it out and help me spread the good news!
Posted in Author's Purpose, Comix Creation, literacy | Comments Off on Apps for Sale
March 30th, 2016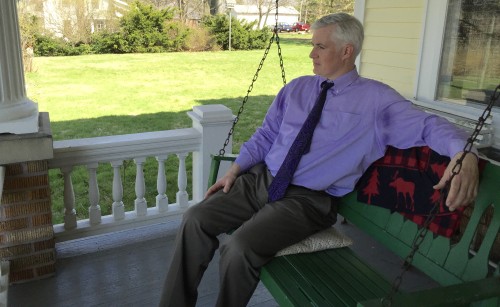 I have put my business on the line to test a theory I've had for 16 years.
Chester's history adventures began in the Daily Press newspaper in Newport News, Virginia, in 1995. His origin was specifically shaped by his region: As any student who has heard my Author's Purpose talk knows, I first tried a turtle as a narrator for a series of Earth Day cartoons, but the editors at the paper wanted a mascot that was more colorful and more specific to our Tidewater region of Virginia. So: a Chesapeake Bay blue crab!
And in our region, he was hit. Chester's stories grew over several years until they became a daily feature in 1999. I never let Chester's origin limit his reach. If someone wanted a really technical answer to the question of WHY a CRAB to teach HISTORY?!?!? I would mention that the Chesapeake Bay watershed covers a lot of early American history. But really, the important thing is that this crab is cute and funny and curious. Inside the stories, Chester the Crab wanders everywhere. The Chesapeake Bay is his home, but the pollutants that absorbed into his shell when he was a young buster gave him the power to travel across all continents and all centuries. Simple!
After just a few months of daily Chester stories, it was clear that teachers and students and parents loved the history adventures. How to get them beyond the reach of the Daily Press' circulation? I began shopping the stories to syndicates because I thought kids in Nebraska and Texas would be interested – for once they could see an American history narrator that wasn't a stuffy, stereotypical bald eagle. But the syndicates and large educational publishers did not agree with me. (For awhile I sent a packet of samples to Scholastic every year, trying different avenues into their corporate operation. Nothing.)
So I clawed ahead on my own. Since 2003, my business Chester Comix LLC has made books of Chester's stories and sold them across the continent. My success has pulled me to speak in front of students in Texas, Wisconsin, Massachusetts, Louisiana and South Dakota. But it's also true that most of my speaking gigs are in that Tidewater region across Virginia and Maryland and North Carolina. Hmmmmmm.
After 20 years of drawing Chester from a desk in Williamsburg, Virginia, it was time to shake things up, to REALLY test his reach. Because a decade of hammering away at this business had taught me what the great city-based cartoonist Ben Katchor just told an interviewer this month:
"[A city] is still a place to get an audience if you want to put on a concert or a show. There's a density of population that would give you an audience for a live show, and I think that's harder to do in a small town. But as far as making things and reading and studying, a lot of great universities are in small towns in America, so it doesn't make sense to be in a big city. It's the most expensive place to do a lot of work. I tell my students to find a cheap place to live for 10 years so you can at least make some work."
So that was my plan: downsize to a cheaper place near a good cross-section of school districts and then draw. And draw. And draw. Last August my Williamsburg nest emptied of the interesting young men that I had raised there, and in September my artist father inspiration muse died, and so in October I moved to a beautiful farmhouse in the quiet Ohio farmland where he and I were born.
Then there was a fire.
Then I got a really good day job in the college town where I was a toddler.
Now I'm in a temporary downtown apartment, two blocks from the hospital where I was born.
But the plan is still in effect, and soon I will set up my drawing desk again, and from there I will work harder on more stories and begin to explore American history beyond the colonial Virginia tales I have told so often (During my Virginia years I drew the Battle of Yorktown for professional publication three times!). And from this little college town in Ohio, I can easily give my Author's Purpose talks to students across Ohio, western Pennsylvania, Indiana, Kentucky . . .
There may be a surcharge to go to Michigan, though.
Posted in Author's Purpose | Comments Off on Chester the Buckeye