Archive for the 'Comix Creation' Category
Wonder Women of . . . MY Century!
Written on Friday, July 16th, 2021
[
permanent link
]
The tweet joke I saw this morning applies to me, too: I'm easy to ID check now because my birthday year begins in a "19." Don't look now, but the 21st Century is now 1/5 over!

I had the good fortune to meet one of the women that I drew on the cover of my newest book—but now even Sally Ride has passed from our timeline. I've lived more than half a century myself. "History" is overlapping me!

My new book is "Wonder Women of the 20th Century," and my next one w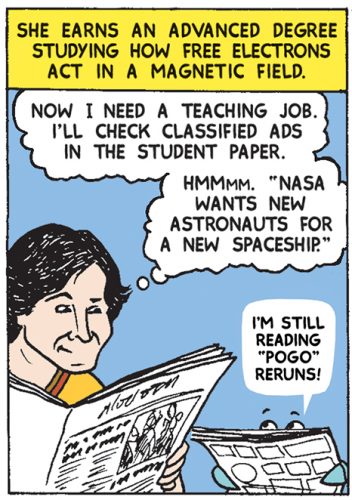 ill be about the Korea and Vietnam wars. It's an odd sensation to draw and color scenes that I remember as current events. The good news is that my experience gives me important perspective. I've seen the rise and fall of ideas. I've seen progress and retreat.

Ride was historic for being the first American woman to go to space, and now women routinely go to the International Space Station to do important research. My own perspective was that I was just another NASA fan who eagerly watched her first flight on TV – but then I got to meet her and shake her hand in my first few weeks of college in 1985 – and then just a few months later I saw her rise to the terrible task of figuring out what had gone wrong in the Challenger shuttle explosion. The nation was in shock, but she went to work to get us to an understanding that would enable our space program to continue. Ride wasn't just a historic first. She was a pivotal part of the United States space program throughout the 1980s.

Jane Addams also shaped the world we live in today, though her influence was at the very beginning of the 20th Century. (I did NOT get to meet her.) Most Americans don't know her story—which makes me want to publish and promote it even more. She helped to make social work a profession, she pushed Chicago to start the nation's first juvenile court system, and she got child labor laws passed to keep children out of factories.

Addams was one of the first stories I drew when Chester became a weekly feature in 1999, and it has one of my favorite panels: her standing in a garbage bin as a fierce champion of good sanitation for the poor sections of cities. But her story stayed out of print for 20 years after it appeared in the newspaper. When the COVID lockdown took hold in March 2020, her biography was one of the stories that I expanded and added to my smartphone app's library. Usually, I take the five pages from a Chester story in the printed books and expand the story on the app. The Jane Addams biography becomes the first story to go in the reverse direction. Adding the app panels back into the bio created a story that is seven pages in the new printed book! She deserves it 😉

And if I get a few more years to do my storytelling, I'll attempt a sequel of this sequel. Who should go in a "Wonder Women of the 21st Century"—-????
Posted in Comix Creation | Comments Off on Wonder Women of . . . MY Century!
Zombie Abe Lincoln!
Written on Saturday, July 28th, 2018
[
permanent link
]
I have some awesome shelved projects.
That rough draft for a whole comic about Ancient India got approval from every educator I showed it to – right up to college professors who study that culture saturated with history and myth. I planned to pay for this book myself because I would sell a LOT of copies to a giant Virginia school district that mandated the teaching of Ancient India. But the draft made district officials too nervous, I lost the main customer, and I never touched the draft again.

Once a museum director asked me to make a pitch for a comic book biography of General George Marshall. It would have been hard to draw a whole book about Marshall, since his genius was in PLANNING (lots of drawings of MEETINGS!!}, but I was willing to try because he was a major force in the World War II era. The money people wouldn't pay for even a draft to test this idea.
I voluntarily drew and colored two pages to demonstrate a comic version of a high school textbook about the core debates that have echoed through our politics for more than two centuries. I was excited to use color flow to show how two basic viewpoints on an issue (big vs. small government!} collided in a historical era. Those two pages came out beautifully. The textbook maker decided NAAAAAAH.
A lot of good ideas get stuck on the chit-chat side of the money contract. One woman's vision to have me tell the history of her cute little Virginia town never got to the money stage. There are countless party conversations where someone gets a light bulb about matching my art to their favorite history, and then no one ever follows up.
Sometimes we get past the contract phase. Last year a major retelling of the Lewis and Clark expedition from the viewpoint of the Native American nations fell apart because the ambitious rough draft showed what the Native Americans thought — too dangerous. The buyers bailed.
When the Lewis and Clark project vanished, I got a clear view of my landscape of half-finished ideas. And there was Abe.
I rough drafted a whole book about Abraham Lincoln a decade ago, hoping to get some sales off of the bicentennial celebration of his birth. I . . . uhhhhh. . . missed that window. Other projects came along with checks attached to them, and I took those to pay the mortgage. Doing a book purely for myself, paid for by only me, is a great risk.
Of course, Abe is worth the risk. But I also couldn't begin on the final drawings for the Abe book until I confronted the truth: I let Abe sit on the shelf so long because I am intimidated by him. I've always loved Abe Lincoln, and he's a towering figure who is hard to sum up in one comic. HUNDREDS of books have been written about him. And my dad loved Lincoln, too. He made sculptures and paintings of Abe for me. Returning to Abe this year would mean I would have to go back into the tunnel where I left the Abe draft years ago and carry it forward in the chill air left after my dad's passing in 2015. Could I finally get Abe all the way through, out into the light? Could I stay focused for three months, or would I nibble awhile and then leave him behind in the dark again?
Posted in Author's Purpose, Civil War, Comix Creation | Comments Off on Zombie Abe Lincoln!
Alexander Hamilton, Gamer
Written on Thursday, November 9th, 2017
[
permanent link
]
I started getting the messages a year ago from enthusiastic moms who already knew my books: I should do a comic about Alexander Hamilton!!
I happily agreed. And then I resisted.
Some of it was carefulness that has soaked into me during 14 years of running this business. It takes a lot to keep 30 titles in print and moving smoothly out the door. Adding another title takes an investment of months to research, write, draw and color it. Once printed, its weight is added to the inventory: another item to track, another item to manage — and if it doesn't sell, it's an even bigger drag on the operation. My art has to be both fun AND a good investment.
But most of my resistance was just professional jealousy. Someone else had already found a way to make A CARGO SHIP FULL OF MONEY on a fun, lively biography of a Founding Father. There seemed to be no room for my slice of pop culture when the Hamilton musical was burning up the available oxygen. "Don't give in to the hate," I heard Oben-wan Franklin tell me. Right you are, Old Ben — and the easiest way to avoid the artistic hate was to just ignore It. You know, ignore that thing selling a 2 hour and 20 minute soundtrack about the Constitution like it was "Saturday Night Fever." IG. NORE.
Then I got a business call in the first week of August 2017. A person in charge of buying educational products for two dozen gift shops in the New York City area asked for samples of several Chester titles and added the magic words, "Do you have anything on Hamilton?"


I will soon, I said. She had just solved my business problem. Now I had to finally confront my artistic problem. HOW could I tell Alexander Hamilton's story in my own way, separate from the style and feel of the musical now on infinite loop in millions of family vehicles carrying teen-aged daughters and their moms?
The musical has great metaphors and wordplay to it – Hamilton is "writing like he's running out of time." But they're not very visual once you get past the duel. The duel is great for a dramatic play, but Hamilton is MUCH more than that duel. How could I make that point with a metaphor that's visual but still fun?
The answer was as close to me as my own sons and my nephews living nearby. We are GAMERS. Games teach strategy and social skills and math and language. I didn't think it would be possible to orient family life around games more than I had in raising my sons, but now I am astounded at how much the families in my nephews' community play board games and strategy games together. There are literally bars in Columbus set up so you can have a beer while you play Parcheesi or Settlers of Catan.
So that's the metaphor of my Hamilton biography. The fun of a game begins with a fair start. In chess, both players start with the same pieces. In Monopoly, players don't bring their own wallet to the table, they get the same set amount of play money. How exciting it must have been for teen-aged Alexander Hamilton to come to New York City as an immigrant and feel that here in this port of many people he had an equal chance to succeed. In the bustle of the city, his energy and intelligence could bring him success alongside the children of wealthy, established American families. Then, when it came time to create a new nation with a new set of rules, Hamilton fought to make sure those rules gave people the equal opportunity that he had as a young man in America. What else is government except a set of rules that we all agree to play by?
On almost every page of the new comic, there is a picture or bit of wordplay that references some popular game. (I tried to figure out a way to get corn hole in there but could not.) When you get your copy, see if you can spot the different games hidden in my biography of Hamilton. I hope you'll think my take on Hamilton is more fun than Twister. (Page 13)
Posted in Author's Purpose, Comix Creation | Comments Off on Alexander Hamilton, Gamer