The tweet joke I saw this morning applies to me, too: I'm easy to ID check now because my birthday year begins in a "19." Don't look now, but the 21st Century is now 1/5 over!

I had the good fortune to meet one of the women that I drew on the cover of my newest book—but now even Sally Ride has passed from our timeline. I've lived more than half a century myself. "History" is overlapping me!

My new book is "Wonder Women of the 20th Century," and my next one w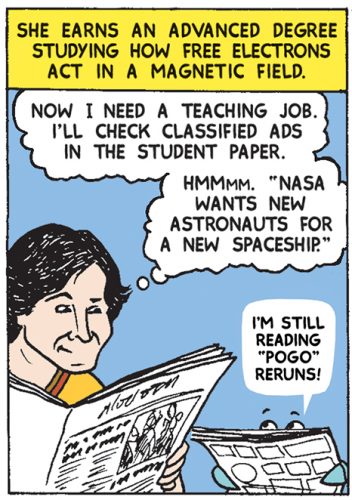 ill be about the Korea and Vietnam wars. It's an odd sensation to draw and color scenes that I remember as current events. The good news is that my experience gives me important perspective. I've seen the rise and fall of ideas. I've seen progress and retreat.

Ride was historic for being the first American woman to go to space, and now women routinely go to the International Space Station to do important research. My own perspective was that I was just another NASA fan who eagerly watched her first flight on TV – but then I got to meet her and shake her hand in my first few weeks of college in 1985 – and then just a few months later I saw her rise to the terrible task of figuring out what had gone wrong in the Challenger shuttle explosion. The nation was in shock, but she went to work to get us to an understanding that would enable our space program to continue. Ride wasn't just a historic first. She was a pivotal part of the United States space program throughout the 1980s.

Jane Addams also shaped the world we live in today, though her influence was at the very beginning of the 20th Century. (I did NOT get to meet her.) Most Americans don't know her story—which makes me want to publish and promote it even more. She helped to make social work a profession, she pushed Chicago to start the nation's first juvenile court system, and she got child labor laws passed to keep children out of factories.

Addams was one of the first stories I drew when Chester became a weekly feature in 1999, and it has one of my favorite panels: her standing in a garbage bin as a fierce champion of good sanitation for the poor sections of cities. But her story stayed out of print for 20 years after it appeared in the newspaper. When the COVID lockdown took hold in March 2020, her biography was one of the stories that I expanded and added to my smartphone app's library. Usually, I take the five pages from a Chester story in the printed books and expand the story on the app. The Jane Addams biography becomes the first story to go in the reverse direction. Adding the app panels back into the bio created a story that is seven pages in the new printed book! She deserves it 😉

And if I get a few more years to do my storytelling, I'll attempt a sequel of this sequel. Who should go in a "Wonder Women of the 21st Century"—-????
This entry was posted on Friday, July 16th, 2021 at 1:05 pm and is filed under Comix Creation. You can follow any responses to this entry through the RSS 2.0 feed. Both comments and pings are currently closed.