Heroic Folk
Heroic Folk (1-933122-35-9)
Americans like to tell stories about larger-than-life characters that match the grand landscape of our continent. This book of Chester the Crab's adventures shows how America's folk tales and legends are often connected to historical fact because these stories tell us something about ourselves.
Comic sample page #1: How did music move John Henry?
Comic sample page #2: What is Johnny Appleseed's legend?
Topics covered in this comic book
View a teacher's guide for this comic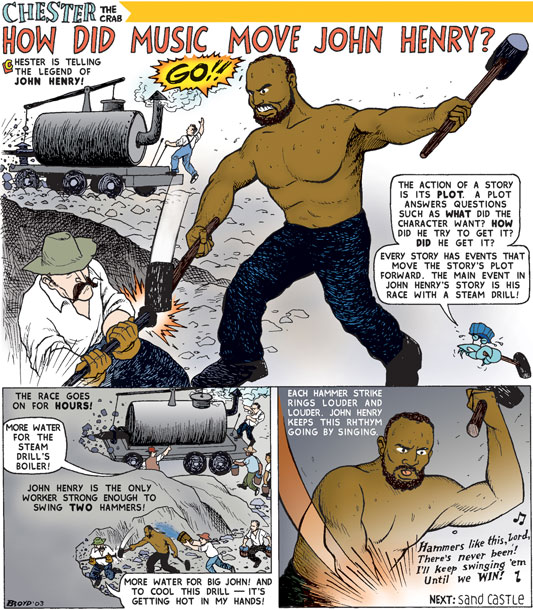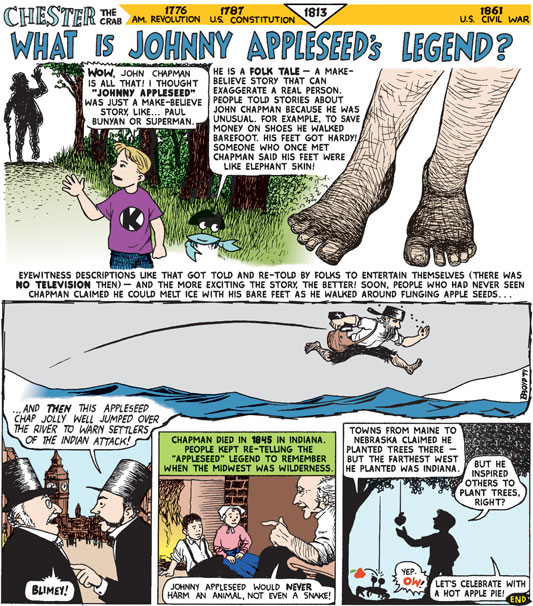 After the United States won its independence as a nation, John Chapman was one of the first real Americans to pick up a story larger than himself. Legends are also simpler versions of the historical fact. The real "Johnny Appleseed" didn't just wander the woods flinging apple seeds around; he lived a careful, thoughtful life that knitted the growing American frontier together . . .
Johnny Appleseed's story includes the following topics:
Where did Johnny Appleseed walk?
When was a war in the woods?
How many apple seeds did he plant?
How do flowers become apples?
What is Johnny Appleseed's legend?
CHAPTER 2 DAVY CROCKETT
Frontiersman Davy Crockett's legend was so popular in the 1950s that American boys begged for fake coonskin caps to wear on their imaginary adventures. But Crockett was a real man of the early 1800s who also served in Congress and defended the rights of American Indians. His own legend got a publicity boost when people started a campaign to make him president of the United States . . .
Davy Crockett's story includes the following topics:
Where was Davy Crockett born?
Who fought Creek Indians in 1813?
Who fought Andrew Jackson in D.C.?
Why do we remember the Alamo?
CHAPTER 3 SAM HOUSTON
He was called "The Raven" when he lived with the Cherokee Indians. Sam Houston was a hero similar to Davy Crockett – always on the move between the American settlements and the Native American towns on the frontier. And when the frontier moved west and hit Texas, both Crockett and Houston would find their destiny there…
Sam Houston's story includes the following topics:
Where did Sam Houston grow up?
Why did Virginians move west?
How did Jackson and Houston differ?
How does Houston lead the Texans?
Who was the first president of Texas?
CHAPTER 4 JOHN HENRY
Dozens of songs, cartoons, and retellings of railroad man John Henry have made him seem like the most fanciful of the early Americanlegends. But new research has added a lot of historical detail to his tale. John Henry is the perfect character for examining how storytelling and history connect in an author's choice of character, setting, plot…
John Henry's story includes the following topics:
Was John Henry a legend?
Where was John Henry's setting?
Who were John Henry's characters?
How did music move John Henry?
What was John Henry's conclusion?