Posts Tagged 'educational comics'
Slow as Manassas
Written on Wednesday, August 11th, 2010
[
permanent link
]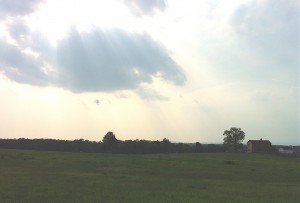 I've lived in Virginia for 18 years without making it up to the site of the first major battle of the Civil War — and then there was a last-minute mission to get my boys to the Green Day concert just down Lee Highway from the Manassas Battlefield . . .
(Don't worry, I got my Cool Dad badge LAST summer when I actually went into the Green Day concert in downtown DC with my boys. But this time the concert was at an outdoor theater, and it hit 101 degrees today, and, well . . . )
Manassas was the site of the first major battle of the Civil War. And the feel of today's battlefield park is just right. Thank goodness these rolling hills are not covered with condos. Though the Manassas Battlefield is only a mile or so north of Interstate 66, you can stand here and feel the struggle of men and guns up and down these hills (and why holding the high ground was so important). There WAS a modern road cutting through the park, but seeing the modern rush hour traffic jammed on its two lanes did not feel overwhelming — it just reminded me of the traffic jam that came at the end of the First Battle of Manassas, as Union soldiers and spectators rushed over each other down that very same roadway to get back to the safety of DC!!
I love visiting Civil War battlefields in the late afternoon. Battles usually ended at sunsdown anyway, so it's a good time to feel the peacefulness and consider the bravery and the terrible pain that happened on this ground — and the ideas that brought people here in conflict.
I feel restored and inspired from having walked through the quiet grass of Manassas. Now back to Paneras to wait for the concert to end!
Tags: battlefield, Bentley Boyd, Chester Comix, Chester the Crab, Civil War, educational comics, First Battle of Manassas, history, Virginia
Posted in Author's Purpose, Historical Travel | No Comments »
More teacher's guides for free
Written on Friday, July 23rd, 2010
[
permanent link
]
Jump on over to http://www.chestercomix.com/teaching-guides to get the free pdf download of the teacher's guides for my comix "First Americans," "Revolutionary Rumblings," and "War for Independence."
These additions to the teacher's area of the website mean almost all my comix now have free teacher's guides here at Chester's home on the web. (Because I'm finally running out of the printed versions — and am gaining back some closet space in my house!!) There are many other free teacher resources on the web, but I think the Chester Comix guides do quite well in comparison. Most of the other resources I see are completely text and skimpy on any material you would present directly to students. My guides are broken into distinct sections, have a lot of visuals and have material to directly help both teachers and their students.
Plus, they have quizzes!! I know, I know, the kids don't like that. But I try hard to craft a light-but-firm tone with them so that these assessments aren't as heavy as a full-blown standardized test practice but still give the students experience with those kinds of questions. ("Which of the following did Europeans NOT trade for West African gold?")
These teacher's guides are packed with the wisdom and work of a dozen real-world classroom teachers who helped me when Chester ran as a newspaper feature for five years. They taught me a lot, and I still hear their guiding voices every time I sit down to draw a new story to help more students.
And their teachers.
Tags: Chester the Crab, educational comics, teachers guide
Posted in History Teacher, literacy | 1 Comment »
Reading comix boosts vocabulary
Written on Thursday, April 8th, 2010
[
permanent link
]
Here's a cute and personal take on the many studies that have shown comix boost the vocabulary and reading comprehension skills of young readers. (You know, like reading just about ANYTHING boosts vocabulary and reading comprehension skills!) This blog on NPR's website falls apart at the end, as the writer strays from the vocabulary theme and gets into a bunch of obscure comic book themes that, well, OK, I GET, but they aren't important to his main point.
PS – Interesting to me that he is almost exactly my age. I still remain devoted to Sesame Street and the teaching power of simple and bold ideas. Like comix!
Tags: Bentley Boyd, Chester the Crab, comic books, educational comics, literacy, reluctant readers, vocabulary
Posted in literacy | No Comments »