Posts Tagged 'First Battle of Manassas'
Slow as Manassas
Written on Wednesday, August 11th, 2010
[
permanent link
]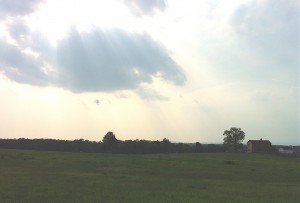 I've lived in Virginia for 18 years without making it up to the site of the first major battle of the Civil War — and then there was a last-minute mission to get my boys to the Green Day concert just down Lee Highway from the Manassas Battlefield . . .
(Don't worry, I got my Cool Dad badge LAST summer when I actually went into the Green Day concert in downtown DC with my boys. But this time the concert was at an outdoor theater, and it hit 101 degrees today, and, well . . . )
Manassas was the site of the first major battle of the Civil War. And the feel of today's battlefield park is just right. Thank goodness these rolling hills are not covered with condos. Though the Manassas Battlefield is only a mile or so north of Interstate 66, you can stand here and feel the struggle of men and guns up and down these hills (and why holding the high ground was so important). There WAS a modern road cutting through the park, but seeing the modern rush hour traffic jammed on its two lanes did not feel overwhelming — it just reminded me of the traffic jam that came at the end of the First Battle of Manassas, as Union soldiers and spectators rushed over each other down that very same roadway to get back to the safety of DC!!
I love visiting Civil War battlefields in the late afternoon. Battles usually ended at sunsdown anyway, so it's a good time to feel the peacefulness and consider the bravery and the terrible pain that happened on this ground — and the ideas that brought people here in conflict.
I feel restored and inspired from having walked through the quiet grass of Manassas. Now back to Paneras to wait for the concert to end!
Tags: battlefield, Bentley Boyd, Chester Comix, Chester the Crab, Civil War, educational comics, First Battle of Manassas, history, Virginia
Posted in Author's Purpose, Historical Travel | No Comments »