Posts Tagged 'Virginia'
Give Me History or Give Me Death!
Written on Monday, June 25th, 2012
[
permanent link
]
We get plenty of Patrick Henry thundering around the historic streets of Williamsburg, where I live. But he also made a lot of noise in Richmond during the Revolutionary Era, so yesterday I spent a lovely Sunday afternoon at Historic St. John's Church in Richmond for the weekly reenactment of Henry's "Give Me Liberty" speech.
It was sunny and warm — nothing like the wintery March day in 1775 when Henry and other people you know (George Washington, Thomas Jefferson, etc) gathered at the church to talk about what to do in the face of Britain's troop surge to control Boston. St. John's Church was the biggest, most comfortable building in what was then a village of about 600 people, and it was a good distance away from the cranky royal governor still perched in the Governor's Palace in Williamsburg. More than 100 Virginia colonial leaders heard Henry ask that the colonists form a militia to prepare for war. When conservative leaders spoke against his motion and urged patience, Henry stood to give the rousing speech that ended with his dramatic cry.
The reenactment was rousing, too. The actors in costume sat among the people in the modern crowd and rose to speak as if we were all in that 1775 convention. At the end, we all got a vote. Back then, Henry's resolutions passed by only five votes. But the next few weeks after that vote proved he was right — shots fired at Lexington and Concord in Massachusetts began open warfare, and a few days later Virginia's royal governor took away the colony's gunpowder in the middle of the night to prevent open rebellion in Virginia. It's rare for a politician to be proven so right, so soon 😉
It was wonderful to be in the same space where Henry himself spoke. St. John's Church was completed in 1741 — the first church built in the city of Richmond. William Byrd II, founder of the city of Richmond, donated the land and timber to build the church. The graveyard is the site of the first public cemetery in Richmond; buried there are George Wythe, signer of the Declaration of Independence and teacher of law to Thomas Jefferson, Chief Justice John Marshall, and Henry Clay; John Page and James Wood, Governors of Virginia; Elizabeth Arnold Poe, mother of Edgar Allan Poe; and Dr. James McClurg, a Virginia delegate to the Constitutional Convention of 1787.
If you're in Richmond on a Sunday afternoon this summer, go to church!
Tags: history, Patrick Henry, Richmond, St. John's Church, Virginia
Posted in Colonial Williamsburg, Historical Travel, History Teacher | No Comments »
Bacon's Rebellion on Jamestown Island
Written on Tuesday, September 28th, 2010
[
permanent link
]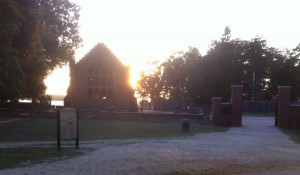 A week ago I found myself on Jamestown Island on a Saturday night for the annual telling of the story of Bacon's Rebellion. Of course I've been out to the island many times in the 18 years that I've lived in the Historic Triangle, but I had never been there for this event. What a cool and calm feeling watching the sun set over the church and then watching the moon rise over the fields where some experts made it feel like 1678!
Willie Balderson was the leader of the crew that night. He is one of the best actors in the Williamsburg area, in part because he can range so widely across the timeline. For years he has led groups on this annual walk through Bacon's Rebellion — the first major uprising of American colonists against British royal authority (a century before the Declaration of Independence). He has a deft touch in making the story understandable to modern audiences but still making them feel he was a participant in that story. (It helps that the crowd's interest mirrors what actually happened: after the rebellion the king sent investigators to Virginia to interview people to find out what went so haywire.)
It's a dramatic story that very few Americans know about — probably the biggest adventure that is untold to modern audiences. Well, except for my own version of it in my Founding Fathers book. 😉
Jamestown Island is great example of how I can do what I do for a living. It is a favorite among locals because it has beautiful hiking and biking just a few minutes away from our community. It is amazing that we have such historic ground so nearby, where we can see the marshes at sunset, watch a bald eagle eat dinner on the James River seawall, or hear the archaeologists tell us what they've learned about Jamestown Fort today that they didn't know a month ago. It's getting harder to find those unique pieces of ground in America, but this is easy to get to and there's no Wal-Mart around!
Tags: Bacon's Rebellion, Bentley Boyd, Chester Comix, Jamestown Island, Virginia, Willie Balderson
Posted in Author's Purpose, Historical Travel, History Teacher | No Comments »
Slow as Manassas
Written on Wednesday, August 11th, 2010
[
permanent link
]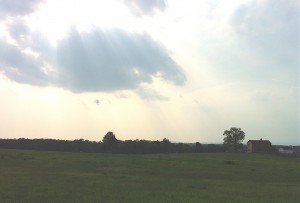 I've lived in Virginia for 18 years without making it up to the site of the first major battle of the Civil War — and then there was a last-minute mission to get my boys to the Green Day concert just down Lee Highway from the Manassas Battlefield . . .
(Don't worry, I got my Cool Dad badge LAST summer when I actually went into the Green Day concert in downtown DC with my boys. But this time the concert was at an outdoor theater, and it hit 101 degrees today, and, well . . . )
Manassas was the site of the first major battle of the Civil War. And the feel of today's battlefield park is just right. Thank goodness these rolling hills are not covered with condos. Though the Manassas Battlefield is only a mile or so north of Interstate 66, you can stand here and feel the struggle of men and guns up and down these hills (and why holding the high ground was so important). There WAS a modern road cutting through the park, but seeing the modern rush hour traffic jammed on its two lanes did not feel overwhelming — it just reminded me of the traffic jam that came at the end of the First Battle of Manassas, as Union soldiers and spectators rushed over each other down that very same roadway to get back to the safety of DC!!
I love visiting Civil War battlefields in the late afternoon. Battles usually ended at sunsdown anyway, so it's a good time to feel the peacefulness and consider the bravery and the terrible pain that happened on this ground — and the ideas that brought people here in conflict.
I feel restored and inspired from having walked through the quiet grass of Manassas. Now back to Paneras to wait for the concert to end!
Tags: battlefield, Bentley Boyd, Chester Comix, Chester the Crab, Civil War, educational comics, First Battle of Manassas, history, Virginia
Posted in Author's Purpose, Historical Travel | No Comments »