Archive for the 'literacy' Category
Apps for Sale
Written on Wednesday, August 10th, 2016
[
permanent link
]
This week the Chester Comix app finally hit the Google Play store for Android tablets and smartphones. Now kids and parents and teachers can download the reader app for free and find within it a bookshelf of expanded Chester adventures, for sale at a buck apiece. There are 13 stories for now, and each one has MORE drawings, MORE jokes and MORE fun historical details than the versions of these stories you have read in the printed books. It was a long slog to get this. I'll write more about it soon. But as I pushed myself through the mud of the past three years, I started to tally all the events that were going by me while the app slogged.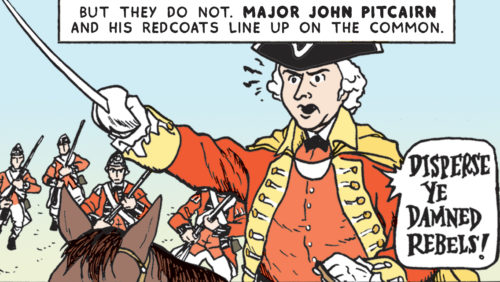 In the three years since my wonderful friends, fans and family backed my Kickstarter campaign to develop this app:
* My oldest son took a year off from college and spent it living and working in a dumpy apartment in Baltimore
* My youngest son got his First Car
* In my consulting work at Jamestown I helped promote and then assist-on-the-day-of a beautiful, sprawling re-creation of the wedding of Pocahontas and John Rolfe on the 400th anniversary of their vows
* The headgasket on that First Car blew
* My youngest son served as the editor of his high school newspaper, a job I loved having in high school; I didn't even know that high schools printed papers on paper anymore
* My youngest son graduated from high school
* My youngest son earned his Eagle Scout badge from the Boy Scouts of America
* My youngest son went off to the University of Virginia
* Uh-oh. NOW what?!?!?
* I finished a four-year project to draw and write a comic about the archaeology at Historic Jamestowne, and I turned it in and . . . well, I hope we'll all get to see that book someday
* Our beagle fell ill and was given a few days to live by the vet who had always cared for her
* The beagle lived
* My artist father inspiration co-conspirator buddy died
* I packed a moving truck to carry me away from Virginia after 23 years
* There was too much stuff for the truck so I had to make another trip
* Then I made a third trip
* The Ohio farmhouse that I was renting caught fire; the beagle and the comix survived
* I got a job in the Communications department at Kenyon College, where my artist father inspiration was teaching art when I was born
* As I searched for a new house and tried to hold the pieces of my business and life together, I spent 6 months sleeping in a sleeping bag on a hardwood floor in a dumpy apartment in the town where I was born
* My oldest son graduated from college
* THE CLEVELAND CAVALIERS BROKE THE CHAMPIONSHIP CURSE of northeast Ohio.
* I finally got my sons to a Joe Jackson concert
And then the app went on sale. Please check it out and help me spread the good news!
Posted in Author's Purpose, Comix Creation, literacy | Comments Off on Apps for Sale
Big Little Books were huge
Written on Wednesday, October 23rd, 2013
[
permanent link
]
Ten years in business is not just a time to celebrate the past accomplishments but also a time to TOSS the past stuff that no longer matters to the business. For the past two months I've been tossing out a LOT of paper — applications to 2006 conferences, Amazon setup paperwork from 2005, printed e-mails from 2003, expense receipts from 2008. A. LOT. OF. PAPER.
And in the momentum I've also tackled my bookshelves of research material and even my sons' bookshelves. I've finally let go of half of my childhood collection of Big Little Books. I read a few to my sons when they were little guys, and I stacked the collection on my sons' bookshelf years ago thinking they would be a nice bridge to the boys reading by themselves. But the boys didn't really take to them, and now one son is 21 and studying abroad and the other is a junior in high school. Not the target audience for Big Little Books.
So I saved my favorite ones and put the rest in the box to donate to the used bookstore across town. I pointed the Big Little Books out to the two bibliophiles behind the counter — and was shocked when they said they had never heard of them. NEVER??
Big Little Books were like comix for generations of American reluctant readers. They were tiny — and so, non-threatening. Their format was text on the left side and a captioned drawing on the right side page. EVERY right side page!! To my eyes, they were almost as much fun as a full-color comic. Some of mine even had another drawing tucked in the upper-righthand corner so that you could flip them quickly to get an animated cartoon. That was a great deal for 35 cents!
Of course it helped that so many of the books were based on cartoon characters. The very first Big Little Book published by the Whitman Publishing Co. of Wisconsin was a Dick Tracy story in 1932. More than 1,300 titles were published between then and the 1960s. The books started out with hard cardboard covers, but by the time I found them in my hometown drugstore in the 1970s they were paperbacks. They've held up really well to my countless readings.
It's gratifying when parents and teachers tell me how great Chester Comix are for reluctant readers. But me and my crab are just continuing a long, well-worn path. When you talk about Chester Comix offering exciting and colorful reading to excite young people, you have to also give props to Classics Illustrated comix and to Big Little Books. Google some images of their covers today and keep your eyes out in the used bookstores!
Posted in Author's Purpose, literacy | Comments Off on Big Little Books were huge
History comix for the iPad
Written on Thursday, February 9th, 2012
[
permanent link
]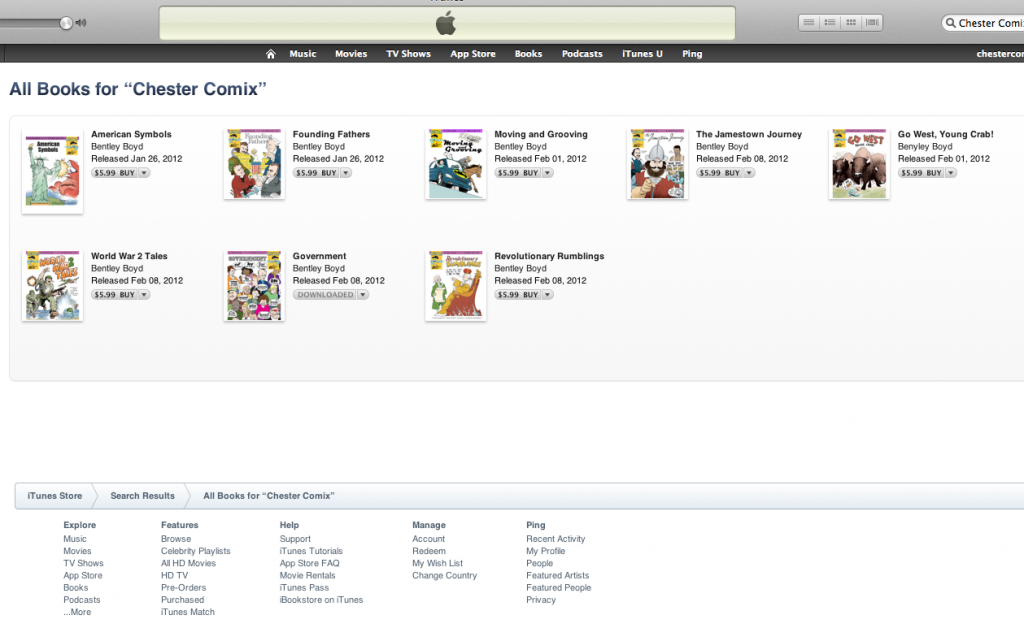 When Apple announced last month that it will push to make digital textbooks more available, many bloggers noted just how few titles are available. Well, now there are eight more titles.
Converting some of the most popular Chester Comix titles from printed book to e-book was one of my big projects in 2011. It feels fantastic to look into Apple's iTunes store today and now see eight of my books ready for download: American Symbols, Founding Fathers, Moving and Grooving, The Jamestown Journey, Go West Young Crab!, World War 2 Tales, GOVERNMENT, and Revolutionary Rumblings.
If you do a search for "Chester Comix" in the iTunes store, you'll find these books AND the three apps I published in 2010. The books are clearly for the iPad (much too big to be viewed on the iPhone) and the apps were drawings that I cut specifically to be easily readable on the iPhone and iTouch. Those apps can be viewed on an iPad, but they don't fill the iPad screen. The commercial success of the iPad meant I could present my Chester adventures in their original vertical design. With even MORE vertical-ness! Part of the process over the past few months was making the page layouts that I drew 10 years ago stretch out to fit the iPad screen's dimensions. For most readers on most pages, the differences between the print version and iPad version aren't noticeable. But I as the author got more and more excited to see how the added space gave the drawings more room to breathe. I think these iPad versions are more readable for young people, and the history lessons within them flow more easily. The format has helped the storytelling! (By the end of the five-year run of Chester in the Daily Press newspaper in Newport News, VA, I was clearly trying to tell too much story and cramming too many words and detailed images into the space I was given on the page. You could see that I knew the project was coming to an end, and I was trying to say as much as I could in the pages I had left. Some of the Chester pages make me claustrophobic when I view them now 😉
Please help me share this great news about Chester for the iPad. The goal is to get all 27 titles into the iTunes store this year!
Tags: comic book, graphic novel, history, iPad, reluctant reader
Posted in Author's Purpose, Comix Creation, literacy | No Comments »