This week the Chester Comix app finally hit the Google Play store for Android tablets and smartphones. Now kids and parents and teachers can download the reader app for free and find within it a bookshelf of expanded Chester adventures, for sale at a buck apiece. There are 13 stories for now, and each one has MORE drawings, MORE jokes and MORE fun historical details than the versions of these stories you have read in the printed books. It was a long slog to get this. I'll write more about it soon. But as I pushed myself through the mud of the past three years, I started to tally all the events that were going by me while the app slogged.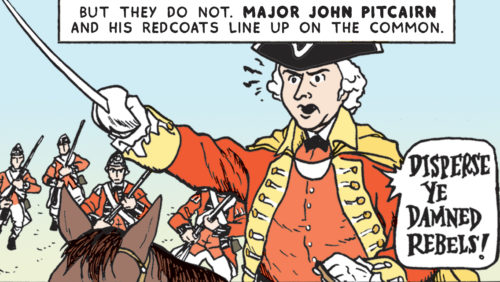 In the three years since my wonderful friends, fans and family backed my Kickstarter campaign to develop this app:
* My oldest son took a year off from college and spent it living and working in a dumpy apartment in Baltimore
* My youngest son got his First Car
* In my consulting work at Jamestown I helped promote and then assist-on-the-day-of a beautiful, sprawling re-creation of the wedding of Pocahontas and John Rolfe on the 400th anniversary of their vows
* The headgasket on that First Car blew
* My youngest son served as the editor of his high school newspaper, a job I loved having in high school; I didn't even know that high schools printed papers on paper anymore
* My youngest son graduated from high school
* My youngest son earned his Eagle Scout badge from the Boy Scouts of America
* My youngest son went off to the University of Virginia
* Uh-oh. NOW what?!?!?
* I finished a four-year project to draw and write a comic about the archaeology at Historic Jamestowne, and I turned it in and . . . well, I hope we'll all get to see that book someday
* Our beagle fell ill and was given a few days to live by the vet who had always cared for her
* The beagle lived
* My artist father inspiration co-conspirator buddy died
* I packed a moving truck to carry me away from Virginia after 23 years
* There was too much stuff for the truck so I had to make another trip
* Then I made a third trip
* The Ohio farmhouse that I was renting caught fire; the beagle and the comix survived
* I got a job in the Communications department at Kenyon College, where my artist father inspiration was teaching art when I was born
* As I searched for a new house and tried to hold the pieces of my business and life together, I spent 6 months sleeping in a sleeping bag on a hardwood floor in a dumpy apartment in the town where I was born
* My oldest son graduated from college
* THE CLEVELAND CAVALIERS BROKE THE CHAMPIONSHIP CURSE of northeast Ohio.
* I finally got my sons to a Joe Jackson concert
And then the app went on sale. Please check it out and help me spread the good news!
This entry was posted on Wednesday, August 10th, 2016 at 8:18 pm and is filed under Author's Purpose, Comix Creation, literacy. You can follow any responses to this entry through the RSS 2.0 feed. Both comments and pings are currently closed.