Posts Tagged 'graphic novels'
OK, Twitter too!
Written on Saturday, November 21st, 2009
[
permanent link
]
Woah, there are a lot of librarians on Twitter!!! And plenty of other cool people, too. So now ChesterComix will be a Tweet you can follow as I hack my way through history.
I remember hearing about Twitter for the first time on an NPR talkshow in 2007. The host kept reading sample Tweets and then asking the founder, "But WHY do I care that Jamie just ate a taco?!?!" I asked the same question. I love Facebook so much that I thought it and this public website blog would keep my update bases covered. Who would care if I ate a taco?!?!
But Twitter is really connecting a lot of interesting people. And it seems a great Do-It-Yourself way to send a short press release. And my business is all about Do-It-Yourself tech. So I've added my voice to one of the most insistent pieces of the Web 2.0 cloud of information.
I hope it's not too boring for you to hear about when I'm researching just how to draw an 1890s farmhouse in Idaho . . .
Check it out: http://twitter.com/ChesterComix
Tags: Bentley Boyd, Chester Comix, Chester the Crab, educational comics, graphic novels, history comics, Twitter
Posted in Author's Purpose | No Comments »
Marine Corps museum visit
Written on Tuesday, May 5th, 2009
[
permanent link
]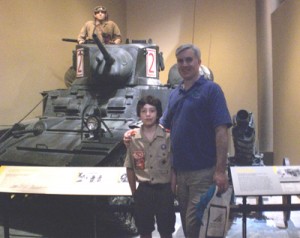 Last week I traveled to the National Museum of the Marine Corps in Quantico, VA, with my sons' Boy Scout troop and squeezed in a book signing and some research for a World War I comic I plan to work on later this year. You can see by my left hand that I did bring the crab hat — the staff at the gift shop absolutely insisted that I wear it during the signing, but they couldn't make me wear it through the museum!
The Marine Corps began as soldiers stationed on sailing warships, ready to go ashore to keep peace or ready to provide extra firepower in ship-to-ship fighting. The museum is full of cool figures that show the different eras of the Corps — You wouldn't think statues could still interest us in our video-saturated digital WWW.com world. But getting up close to real equipment and VERY realistic figures does shoot a charge down your spine! There are some surprises for visitors as they round certain corners . . .
It helps that some galleries put you in the action itself. A room about the Korean War is dark and cold. A Vietnam War gallery puts you on a hilltop at the Khe Sanh base in some high heat, and you get there by going though a rattling, noisy helicopter hatch. If you look closely you can see a rat figure scurrying around. Better than a video game? Close. I loved getting photos at close and unusual angles, which will help in future drawings. In the main atrium of the National Museum of the Marine Corps there is a World War I fighter hung from the ceiling, and I relished the chance to get an image from an angle I wouldn't normally find in a magazine or website.
The National Museum of the Marine Corps is not all blood n' guts (tho there is plenty of that). There's a theater you can sit in to watch World War II-era newsreels and cartoons.  The gallery that introduces the World War II storyline shows two women reacting to news of Pearl Harbor — there's even a broken teacup on the floor. (But it does feel odd that the narrative here includes video playing on the wallpaper; it gives the impression of television when we're looking at an era when almost everyone got their news from the radio, as the women are doing.)
This museum debuted in late 2006 as part of a wave of new brick-and-mortar galleries trying to immerse visitors in video and other sensations to bring history stories alive. It succeeds!
Tags: Bentley Boyd, Boy Scouts, Chester Comix, graphic novels, history, National Museum of the Marine Corps, Troop 180
Posted in Historical Travel | 2 Comments »
Newsweek piece: What's wrong with boys in school?
Written on Wednesday, September 10th, 2008
[
permanent link
]
Here's a quick hit that I'd love to hear your thoughts on. It's a Newsweek piece that asks: are boys really so much less attentive than girls, or have we built an educational environment that is stacked against them?? I've come to the latter conclusion through my work with Chester Comix, my raising of my own two boys and my 10 years as a Cub Scout leader. Boys are rarely allowed to be boys anymore – the world is too structured and the concerns for safety have boxed them in. I think there's a direct link to the rising child obesity and shortening attention span as the elementary-age boy spends more and more time "safely" inside, playing video games. Because they are the main audience for my books, I worry about them and hope we can carefully examine the long-term effects of the decisions we make a parents, educators and community activists.
Tags: Bentley Boyd, boys, Chester the Crab, education, graphic novels, testing
Posted in History Teacher | 1 Comment »