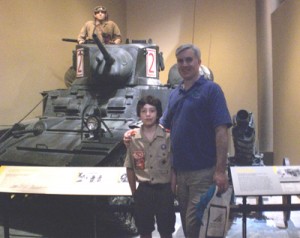 Last week I traveled to the National Museum of the Marine Corps in Quantico, VA, with my sons' Boy Scout troop and squeezed in a book signing and some research for a World War I comic I plan to work on later this year. You can see by my left hand that I did bring the crab hat — the staff at the gift shop absolutely insisted that I wear it during the signing, but they couldn't make me wear it through the museum!
The Marine Corps began as soldiers stationed on sailing warships, ready to go ashore to keep peace or ready to provide extra firepower in ship-to-ship fighting. The museum is full of cool figures that show the different eras of the Corps — You wouldn't think statues could still interest us in our video-saturated digital WWW.com world. But getting up close to real equipment and VERY realistic figures does shoot a charge down your spine! There are some surprises for visitors as they round certain corners . . .
It helps that some galleries put you in the action itself. A room about the Korean War is dark and cold. A Vietnam War gallery puts you on a hilltop at the Khe Sanh base in some high heat, and you get there by going though a rattling, noisy helicopter hatch. If you look closely you can see a rat figure scurrying around. Better than a video game? Close. I loved getting photos at close and unusual angles, which will help in future drawings. In the main atrium of the National Museum of the Marine Corps there is a World War I fighter hung from the ceiling, and I relished the chance to get an image from an angle I wouldn't normally find in a magazine or website.
The National Museum of the Marine Corps is not all blood n' guts (tho there is plenty of that). There's a theater you can sit in to watch World War II-era newsreels and cartoons.  The gallery that introduces the World War II storyline shows two women reacting to news of Pearl Harbor — there's even a broken teacup on the floor. (But it does feel odd that the narrative here includes video playing on the wallpaper; it gives the impression of television when we're looking at an era when almost everyone got their news from the radio, as the women are doing.)
This museum debuted in late 2006 as part of a wave of new brick-and-mortar galleries trying to immerse visitors in video and other sensations to bring history stories alive. It succeeds!
Tags: Bentley Boyd, Boy Scouts, Chester Comix, graphic novels, history, National Museum of the Marine Corps, Troop 180
This entry was posted on Tuesday, May 5th, 2009 at 11:49 am and is filed under
Historical Travel
. You can follow any responses to this entry through the
RSS 2.0
feed. You can
leave a response
, or
trackback
from your own site.