Archive for 2010
Chester is an App!
Written on Tuesday, October 12th, 2010
[
permanent link
]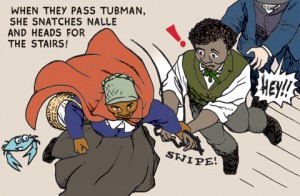 Different formats mean different stories. The Chester history adventures that I've published in book form for the past seven years were all designed to work as one-week-long episodes in a newspaper. (Look "newspaper" up on Wiki, kids.) I'm proud of how much action and information I packed into those episodes, but it's time to update those stories and see how they sing in another format. Kids are reading lots of things outside the covers of a book.
Students, teachers, and parents can now put Chester in their pocket. The first three Chester story apps are available in the iTunes store for your iPhone, iTouch, or iPad! (Click the black app logo on the homepage to get to my links to the iTunes store.) It's just 99 cents to get an expanded biography of Harriet Tubman or a more detailed story of the Battle of Antietam in the American Civil War or the Battle of Britain in World War II.
When I cut up the panels of the old newspaper stories I got about 40 panels per story. I've drawn new material to double that length for my first three smartphone stories. Without the space restrictions that print puts on me, I could add the kind of details that make the history of human beings so interesting. Now there's a scene to Tubman's story in which she helps free a man in the middle of a riot in New York! The Battle of Antietam story now does a better job of showing in pictures how the Sunken Lane went from a Confederate stronghold to a Confederate deathtrap. And The Battle of Britain has more of Winston Churchill's inspiring speeches — and links to webpages where you can HEAR Churchill give the speeches during the heat of battle! So it's good to have the Tubman biography in the Wonder Women book because there a young reader can get a quick overview of her life and compare her to other bold women of 19th Century America. But it's good to have the app, too, because it's got more action!
I hope to keep printing comic books about history — I'm finishing up the World War I book now and am in the thick of drawing a bio about George Washington for Mount Vernon — but I'm also excited to pick my most action-packed stories from the past 11 years and morph them into mobile apps. Next up: The TRUE Story of Pocahontas!
I'd love to get your feedback on these apps!
PS — There are discounts for educational institutions that buy multiple copies of the iTunes apps. Check out http://www.apple.com/education for more information!
PPS — Yes, I know the Droid is selling well. I hope to take the apps I make for iTunes and move them over to the Droid in the next few months.
PPPS — After I get 5 or 6 apps published, I'm going to circle back to add important educational bells and whistles to these — the first being sound. I hope to add an audio track in English and an audio track in Spanish so that struggling readers can get some help as they scan through the story visually. Look for that in 2011!
Tags: app, Battle of Antietam, Battle of Britain, Bentley Boyd, Chester Comix, Chester the Crab, Civil War, Harriet Tubman, history, iPhone, World War II
Posted in Author's Purpose | No Comments »
The First Remainder.
Written on Thursday, September 30th, 2010
[
permanent link
]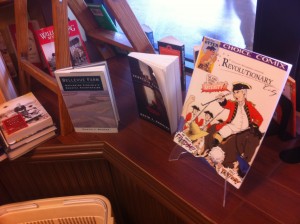 Wow. A milestone! The First Time I Saw One of My Books in a Used Bookstore.
Today, at the popular Book Exchange on Jamestown Road in Williamsburg.
Maybe a good thing? It means my stuff is out there, people are trying them. Not everyone will like what they read. Comix are a hard art form to navigate if you haven't read any since Archie and Jughead when you were 7.
But I couldn't stop staring — like finding one of my homemade cupcakes in the trash at the company picnic, with one bite out of it. I know in my head that used Chester Comix are out there — you can see them advertised on Amazon. But I've never physically come face-to-cover with one in all the used bookstores I love to cruise.
I resisted the urge to pull a Paddington and write a note to stick inside it: "Please take care of this book."
Tags: Author's Purpose, Bentley Boyd, bookstore, Chester Comix, Revolutionary City
Posted in Author's Purpose | 4 Comments »
Bacon's Rebellion on Jamestown Island
Written on Tuesday, September 28th, 2010
[
permanent link
]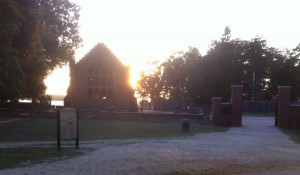 A week ago I found myself on Jamestown Island on a Saturday night for the annual telling of the story of Bacon's Rebellion. Of course I've been out to the island many times in the 18 years that I've lived in the Historic Triangle, but I had never been there for this event. What a cool and calm feeling watching the sun set over the church and then watching the moon rise over the fields where some experts made it feel like 1678!
Willie Balderson was the leader of the crew that night. He is one of the best actors in the Williamsburg area, in part because he can range so widely across the timeline. For years he has led groups on this annual walk through Bacon's Rebellion — the first major uprising of American colonists against British royal authority (a century before the Declaration of Independence). He has a deft touch in making the story understandable to modern audiences but still making them feel he was a participant in that story. (It helps that the crowd's interest mirrors what actually happened: after the rebellion the king sent investigators to Virginia to interview people to find out what went so haywire.)
It's a dramatic story that very few Americans know about — probably the biggest adventure that is untold to modern audiences. Well, except for my own version of it in my Founding Fathers book. 😉
Jamestown Island is great example of how I can do what I do for a living. It is a favorite among locals because it has beautiful hiking and biking just a few minutes away from our community. It is amazing that we have such historic ground so nearby, where we can see the marshes at sunset, watch a bald eagle eat dinner on the James River seawall, or hear the archaeologists tell us what they've learned about Jamestown Fort today that they didn't know a month ago. It's getting harder to find those unique pieces of ground in America, but this is easy to get to and there's no Wal-Mart around!
Tags: Bacon's Rebellion, Bentley Boyd, Chester Comix, Jamestown Island, Virginia, Willie Balderson
Posted in Author's Purpose, Historical Travel, History Teacher | No Comments »