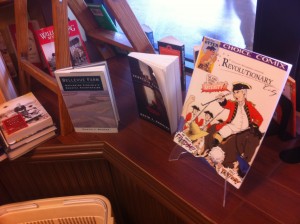 Wow. A milestone! The First Time I Saw One of My Books in a Used Bookstore.
Today, at the popular Book Exchange on Jamestown Road in Williamsburg.
Maybe a good thing? It means my stuff is out there, people are trying them. Not everyone will like what they read. Comix are a hard art form to navigate if you haven't read any since Archie and Jughead when you were 7.
But I couldn't stop staring — like finding one of my homemade cupcakes in the trash at the company picnic, with one bite out of it. I know in my head that used Chester Comix are out there — you can see them advertised on Amazon. But I've never physically come face-to-cover with one in all the used bookstores I love to cruise.
I resisted the urge to pull a Paddington and write a note to stick inside it: "Please take care of this book."
Tags: Author's Purpose, Bentley Boyd, bookstore, Chester Comix, Revolutionary City
This entry was posted on Thursday, September 30th, 2010 at 9:31 pm and is filed under
Author's Purpose
. You can follow any responses to this entry through the
RSS 2.0
feed. You can skip to the end and leave a response. Pinging is currently not allowed.