Posts Tagged 'educational comic'
George Washington's Dung House
Written on Sunday, August 1st, 2010
[
permanent link
]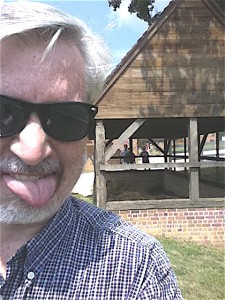 I love the smell of History in the morning!
When I visited last week, I discovered that less than 100 yards  from George Washington's mansion — one of the most famous and beautiful homes in America — is his OPEN-AIR DUNG SHED!!!! Archaeologists found the brick foundation, so we KNOW it was there, a safe place to keep old crap for later use as fertilizer on one of Washington's five farms. This is the best proof I know that Washington considered himself a serious and innovative farmer.
This is the kind of lively detail I'll put in a new biography of the nation's first president. The folks at Mount Vernon called me up for meetings this past week to discuss how I can help them update their materials for teachers and students, and I'm excited — but not because I will start from scratch.
I've certainly drawn a lot about Washington already, and parts of his story are among the most well-known pieces of American history covered in the nation's classrooms. What excites me specifically is the chance to build on what Mount Vernon already did in 2006 when it opened a state-of-the-art education center. At the time I covered the opening as a reporter, and the center got a lot of attention for three lifelike statues of GW created by CSI techniques. But every time I go back I see more details and bolder storytelling than I noticed before. It's an amazing achievement for a historical figure that everyone thinks they know.
I hope to live up to those high standards as I embark on The Definitive George Washington Biography Comic Book!!
Tags: Bentley Boyd, Chester Comix, educational comic, George Washington, history, Mount Vernon, Virginia
Posted in Historical Travel | No Comments »