Welcome back to the future – if you've logged onto the Chester Comix homepage this month for the first time since school ended in June, you'll see a lot of changes and a lot MORE content! Awesome designer, artist and Man About The Globe Brian Korte worked with me closely all summer to make this site easier to navigate and more fun to visit. THANKS, BRIAN! (Brian has his own fantastic business: making works of art out of Legos! Please visit his site to see his spectacular work: www.brickworkz.com)
My own calendar for the fall will see a lot of booksignings to support my newest title, the choose-your-own-path "Revolutionary City," but no educational conferences. Those are a fun way to meet new educators and see the countryside from my little PT Cruiser, but for now I'm putting my oomph into national distribution networks. If your school has an account with Ingram Booksellers or Follett Library Resources, you can now get Chester Comix from those outlets.
I'm also drawing LOTS of new material! Over the past two years the chorus of teachers asking for a World War I book has grown, so that's on my plate. The manuscript is done and being reviewed by historians now — I'm hoping to have the book published in time for the new World War I wing opening at the National Museum of the Marine Corps this spring.
I'm also trying to get a book about famous people who were homeschooled done within the next two months. It's a nice survey of one-page biographies — people from General George Patton to President Woodrow Wilson to anthropologist Margaret Mead. It's fun for me to also stretch myself towards subjects that I wouldn't normally cover under the original mission of Chester's stories (U.S. standardized test material) — in this book I get to profile non-Americans like Mary Leakey and Beatrix Potter! Here's a sample rough draft page from the upcoming "Homeschool All-Stars."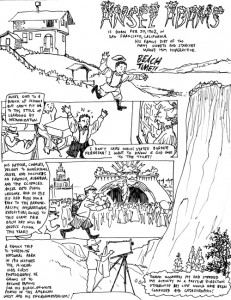 Tags: Ansel Adams, Bentley Boyd, Chester Comix, comic book, graphic novel, history, homeschool, rough draft
This entry was posted on Monday, September 28th, 2009 at 9:31 am and is filed under
Author's Purpose
. You can follow any responses to this entry through the
RSS 2.0
feed. You can skip to the end and leave a response. Pinging is currently not allowed.