Archive for 2008
Chester Charity
Written on Sunday, November 23rd, 2008
[
permanent link
]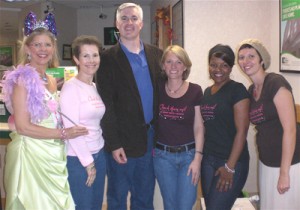 My business model is to help students, teachers and parents, but I also want to use my time and business proceeds to help my community at large. In a good sign for the business, I'm getting more and more of those requests (Chester's brand expands every time someone asks me to donate books for a charity auction!).
Last week I had a great time at a calendar signing for Beyond Boobs, a new nonprofit to help young women deal with breast cancer. (This photo includes some of the wonderful cancer survivors featured in the calendar — the two founders of the charity, Rene Bowditch and Mary Beth Gibson, are on the left). I also gave them a check based on the sales my great friend, Wendy Owens, (to the right of me) got for me by running my booth at the Virginia school librarians conference earlier this month. Please visit the Beyond Boobs web site and buy a beautiful calendar!
www.beyondboobsinc.org/
Tags: Bentley Boyd, Beyond Boobs, charity, Chester Comix, Williamsburg
Posted in Author's Purpose | No Comments »
A Run to Roanoke
Written on Friday, November 14th, 2008
[
permanent link
]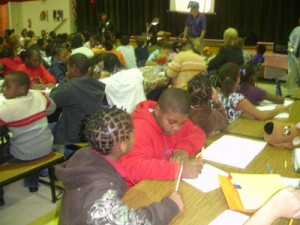 The days after Barack Obama was elected to the presidency were an interesting time to hang out with urban students in Roanoke, Virginia. I had to design an Obama caricature in a hurry!!! Made me wistful for my political cartooning days . . .
But it felt good to add that breath of fresh air. Drawing Frederick Douglass endorsing Obama was just plain FUN (the contrast in their hair was the best!). I do tweak my presentation over the years — I've added new words, new ideas and new twists to the standard drawings I do in my "chalk talks." But it's all built on a simple idea that has been around since vaudeville days: the magic that appears as a guy brainstorms ideas with an audience and brings those ideas to form.
Plus the silly hat . . .
During my talk at Fairview Elementary in Roanoke, the 200 students brought pencils and paper to the cafeteria. I think it's cool that they drew as I drew and we brainstormed together. I got some great renditions of Chester at the end of my talk. I don't ask them to draw him, but Chester has proven the test of time to be an appealing and simply-formed character — like Snoopy or Mickey Mouse. I love seeing the variations that kids come up with!
Posted in Historical Travel | 5 Comments »
Newsweek piece: What's wrong with boys in school?
Written on Wednesday, September 10th, 2008
[
permanent link
]
Here's a quick hit that I'd love to hear your thoughts on. It's a Newsweek piece that asks: are boys really so much less attentive than girls, or have we built an educational environment that is stacked against them?? I've come to the latter conclusion through my work with Chester Comix, my raising of my own two boys and my 10 years as a Cub Scout leader. Boys are rarely allowed to be boys anymore – the world is too structured and the concerns for safety have boxed them in. I think there's a direct link to the rising child obesity and shortening attention span as the elementary-age boy spends more and more time "safely" inside, playing video games. Because they are the main audience for my books, I worry about them and hope we can carefully examine the long-term effects of the decisions we make a parents, educators and community activists.
Tags: Bentley Boyd, boys, Chester the Crab, education, graphic novels, testing
Posted in History Teacher | 1 Comment »