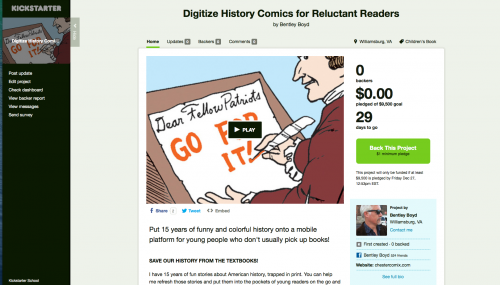 And to finish off the 10th anniversary year of Chester Comix: A PLEA FOR MONEY!
No, see, this really does make sense. Chester Comix LLC launched in 2003 with generous financial help from many friends and family members. And a few credit cards. The business has continued to grow with important and timely support from many sources. Revenues have climbed steadily, but the capital expenses are big — when you have to spend $12,000 to reprint just four of your 31 titles, the search for $$$$ is ongoing.
So it's been obvious for several years that MOBILE is the answer. Selling stories that don't require me to print on paper and ship books in boxes is a good way to smooth out the revenue stream and expand Chester's audience. And tablets and smartphones are where many of today's reluctant readers are actually reading (texts, social media). In 2010 I got three Chester stories into iTunes to be read on Apple's iPhones and iTouches. In 2011 I got eight of Chester's books into iBooks for Apple's iPads.
But that's not enough. I have more than ONE HUNDRED stories in my printed comix that I could turn into fun stories on smartphones. For the past two years I've been drawing new panels for those stories to add MORE jokes and MORE fun details that the textbooks miss. But as I gleefully drew, the technical requirements to get these stories onto the iPhone got thornier and thornier. It became like Gatsby's green light or Ahab's whale — the goal that remained stubbornly out of reach the closer I got to it. An Apple rep told me last summer what it would take to build on the existing Chester story apps. His solution requires more intense programming. And that requires more money.
So: KICKSTARTER. Kickstarter is for artists what venture capitalists are to Silicon Valley. It's crowdsourcing — a way for me to raise small amounts of money from fans far and wide and add them into a big project. I love that part of the Kickstarter model is that I give the supporters unique rewards. Check out the link to the project to see some of the fun (everything from free copies of the stories we make to signed copies of full Chester pages to a drawing of yourself in one of the stories!).
The other big part of the Kickstarter model is that the projects have a limited time to raise the funds. We have 30 days. LET'S GET IT!
Tags: comics, history, iPhone, Kickstarter
This entry was posted on Wednesday, November 27th, 2013 at 2:19 pm and is filed under
Author's Purpose
. You can follow any responses to this entry through the
RSS 2.0
feed. Both comments and pings are currently closed.