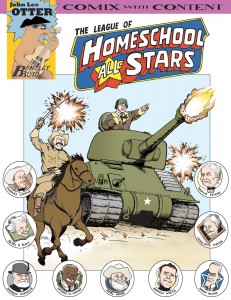 I'm in the homestretch for the homeschooler book! I'm hoping to get it to the printers this week. One of my favorite parts of making a new book is drawing the cover, which is a great moment to try to draw all the inside contents together.
This cover is a tribute to the Justice League of America comix I grew up on. Every year there would be a 2-issue crossover story featuring a whole pack of heroes, so their busts would appear around the edges of the cover to promote the story. To do an homage to that kind of kitchen-sink cover was a fun way for me to get out front more of the one-page bios. (I'm hoping this book will also sell at gift shops in the various museums dedicated to these folks.)
Unfortunately, this stage of the creative process is also the hardest for me emotionally. It's where I don't feel talented at ALL! Near the end I get really frustrated as I pull back and see the difference between what I have in my head and what appears on the page. (This used to happen even near the end of much shorter projects, such as the daily black and white political cartoon I drew from 1995 to 1999.) So I'm diving back in and trying to sharpen things up in these last few days — kind of a marathon runner's last gasp push to cross the finish line strong!
Tags: Bentley Boyd, biography, Chester Comix, George Patton, graphic novel, history, homeschool, Teddy Roosevelt
This entry was posted on Sunday, November 1st, 2009 at 9:45 am and is filed under
Author's Purpose
. You can follow any responses to this entry through the
RSS 2.0
feed. You can skip to the end and leave a response. Pinging is currently not allowed.