Archive for the 'Civil War' Category
Book Review: Mr. Lincoln's T-Mails by Tom Wheeler
Written on Friday, August 29th, 2008
[
permanent link
]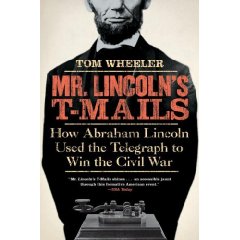 I enjoyed all the comparisons between Barack Obama and Abraham Lincoln made at the Democratic National Convention this week. If anything, Lincoln was LESS experienced at the time of his election than Obama is now: Lincoln had only one 2-year term in the House of Representatives and was a complete dark horse candidate at the Republican convention in the summer of 1860 and a shock to the East Coast establishment when he got the nomination.
Get ready for a lot more Lincoln – next year is the bicentennial of his birth, and a nationwide commemoration of the 150th anniversary of the Civil War will also gear up next year. There's going to be a lot of blue and gray around, and I'm preparing to do a comic entirely on Honest Abe!
As research for that, I just finished reading Tom Wheeler's "Mr. Lincoln's T-Mails." Wheeler's thesis is a fine one — that Abraham Lincoln's use of the new technology of the telegraph mirrors our own experience with the new form of communication we call e-mail — but this book reads more like a long piece in the New Yorker than a book. He repeats his thesis over and over rather than to push his analysis into secondary or tertiary levels of description of how lightning-fast communication could be manipulated for the sender's purpose. A decade into the e-mail practice, we all know now how e-mail can be used or NOT used to get a point across to friends, co-workers, bosses or others. There are glimmers of this kind of analysis in Wheeler's book – such as when he notes Lincoln's own perceptive view that a telegraph message ranked below a handwritten letter and far below face-to-face talking in its effectiveness. That hierarchy of human communication still exists today!
But more often Wheeler's book is a simple review of the events of the Civil War. And a great reminder of what a jerk Union General George McClellan was! This is a fast read that could have moved a little more slowly than the speed of Morse code.
FUN PASSAGE:
"It might be argued that the telegraph's intrusion had sapped (General) Hooker of his authority. Clearly he was frustrated, observing to a fellow general that dealing with Lee 'had occupied two hours of his time each day, Washington had required the remainder.'"
Tags: Abraham Lincoln, Bentley Boyd, Chester the Crab, Civil War, history, telegraph
Posted in Civil War, History Book Review | No Comments »
Civil War Cartoonist
Written on Friday, August 22nd, 2008
[
permanent link
]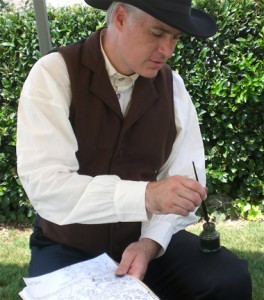 My son Truman and I did our first Civil War reenactment last weekend at the Portsmouth Naval Shipyard Museum. I'm sure I'll be a bluecoat soldier at some point, but for now it's easy to act as a cartoonist freelancing for a New York newspaper while embedded with the 79th New York Volunteers unit!
So here's the reverb: I'm a freelance cartoonist who draws history who is, in this photo, portraying a Civil War freelance cartoonist who draws history with historically-accurate tools.  (Which was a great use of time because I had a deadline to meet!!!)
The work I was doing was a rough draft of a Revolutionary War comic I'm doing in cooperation with the Colonial Williamsburg Foundation. I'll post some of these rough draft pages soon for you to see how I put a book together, but here you can see that
a. I am indeed an ink-stained wretch (the classic description of a journalist)
b. I am doing cartooning that a Civil War cartoonist could have been doing!
(I've tried using a pen like this on my political cartoons off and on over the years but never felt completely comfortable. It's a slower tool than a brush and I work quickly. But that slower pace sure felt nice during this beautiful day of living history!)
Truman and I found this unit of reenactors when we visited an event at the wonderful Endview Plantation in Newport News, Virginia in March. They are based on the Peninsula, so it makes it easy for us to stay in contact with them. They have great equipment and a lot of experience – and are glad to have a drummer boy! As soon as Truman started hanging out with them Saturday, he cocked his kepi like a veteran. I'm so proud of Truman for investigating Civil War life and then going out and experiencing that history. This love of his has developed over many years and is getting quite rich. (He says he wants to grow up to work at a National Park Service historic site!!)
Tags: Bentley Boyd, cartoonist, Chester the Crab, Civil War, reenactor
Posted in Civil War | No Comments »
Rustling the old leaves
Written on Monday, March 17th, 2008
[
permanent link
]
For all the exploring I do with my boys, we still make the classic Locals mistake! We have lived in Virginia for 15 years and still missed some great sites nearby. We've travelled hundreds of miles to climb rocks at Gettysburg, view the Cyclorama painting in Atlanta and walk the woods of Shiloh, but we had never stood at Cold Harbor. So a few weekends ago we took a traipse through Civil War sites around Richmond.
We were amazed at how many defensive earthworks survive in the woods. Almost 150 years after they made the difference between life and death for some soldiers, these earthworks still run right behind people's backyards! I always get a better sense of a story or event when I can walk the land where it happened, and it was chilling and beautiful to see how the defensive earthworks still snake over the land around Richmond
Truman has a great eye for detail, and he discovered that the cannons posted outside one farmhouse used in the 1862 Seven Days Battle were actually cast in 1863, as we could see from a stamp in the barrel. He was . . . horrified!
And this photo is not of Grant's tomb — it's his cabin. Truman stands guard over the place where Union General Ulysses S. Grant stayed on a bluff above the James River during the months of siege against the Confederate railline at Petersburg, Virginia, just south of Richmond. It's part of a pretty park in what is now Hopewell, VA, a place we've driven through to get to church for 14 years – and we'd NEVER stopped until after church this rainy Sunday!
Tags: Bentley Boyd, Chester Comix, Civil War, Confederate, Ulysses S. Grant, Virginia
Posted in Civil War | No Comments »