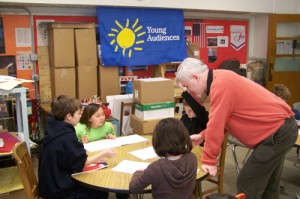 I'm back in Richmond this week doing artist-in-residency work with 4th graders for the arts organization Young Audiences! This is my third school year of helping elementary students become authors over these 5-part workshops.
When I was in 4th grade I was copying "Peanuts" comic strips out of the newspaper, line by line. By 5th grade I was making my own little chicken-scratch comix by folding a regular piece of typing paper in half and drawing with an over-the-counter black felt pen. My Dad copied the original for me, and I sold the black and white copies to my friends for 25 cents.
I like helping the students today do MORE than I did. I push them to really structure their ideas and practice them through three full versions of their stories (a text rough draft, a thumbnail sketch version and a finished, colored version) — I sure didn't do multiple drafts when I was drawing "Dyno-Man and the Army of Justice!!" The good news is that their ideas are worth that work. Today I edited stories about Harriet Tubman and John Henry building a freedom railroad to the MOON and about Thomas Jefferson and George Washington arguing about where to have lunch!
Tags: arts in education, Author's Purpose, Bentley Boyd, Chester the Crab, comic book, graphic novel, Richmond Public Schools
This entry was posted on Wednesday, February 24th, 2010 at 11:52 am and is filed under
Author's Purpose
,
History Teacher
. You can follow any responses to this entry through the
RSS 2.0
feed. You can skip to the end and leave a response. Pinging is currently not allowed.