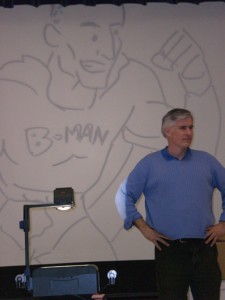 How do you hold the attention of 500 elementary students on a rainy day? Show them how a few penlines makes anyone into a superdude! I draw three versions of myself in my Author's Purpose talks, to show how a powerful imagination can reshape reality (and there is no greater reshaping to be done than to make me into a superhero!).
I had a great time at Kempsville Elementary in Virginia Beach last week. After the opening session in the cafeteria I did break-out sessions with two classes at a time, and we drew up a storm. A brainstorm – there were drawings about Ben Franklin's kite hypothesis, Thomas Jefferson's narrow miss of a hangman's noose and Abe Lincoln's old magic hat. We even explained why the Powhatan Indians built longhouses out of the reeds and sticks on the ground around them — because no one had invented "Longhouse Depot" for Saturday errands yet.
Elementary students love feeling the power of their own creativity. So did I – so I never gave it up!
Tags: Author's Purpose, Bentley Boyd, Chester the Crab, graphic novels, Kempsville Elemenetary, Virginia Beach
This entry was posted on Tuesday, February 19th, 2008 at 1:03 am and is filed under
Author's Purpose
. You can follow any responses to this entry through the
RSS 2.0
feed. You can
leave a response
, or
trackback
from your own site.