Posts Tagged 'historian'
American's Back!
Written on Thursday, February 7th, 2008
[
permanent link
]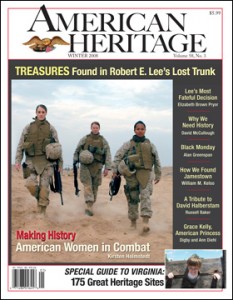 A few weeks after I posted a blog here about the death of the magazine American Heritage, I was wandering through my local Barnes and Noble and the American Heritage logo jumped out at me! It's BACK!!
Editor Edwin S. Grosvenor has reinvented it as a quarterly magazine pushing History in the headlines – just look at that cover of women soldiers in the Middle East! Throughout the mag there is a push to use History to understand what the news is now.
I'm happy to see print isn't dead. But there's no mistaking the priorities here. The mag is now published only a third as often as it once was, and it really becomes a glossy marketing tool for the staff's website (which carries the tagline "History's homepage"). The good news is that the mag and the website are in step in their new, lively dance. The website features:
* the news of actor Heath Ledger's death because he starred in the well-received historical movie "The Patriot"
* easy-to-find blog entries, including one about how to volunteer on an archaeological dig at Mount Vernon
* news of the rediscovery of photos of Lincoln's second inauguration, which had been mislabeled long ago
It's a great resource for teachers making the case to students that History is new everyday. It's been a great resource for me! www.americanheritage.com
Tags: American Heritage, Bentley Boyd, Chester Comix, historian, History's Homepage
Posted in History Book Review | 2 Comments »