Archive for the 'Author's Purpose' Category
Chester the Buckeye
Written on Wednesday, March 30th, 2016
[
permanent link
]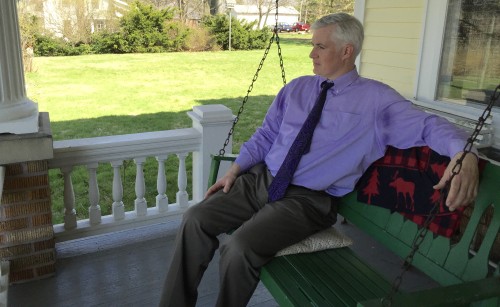 I have put my business on the line to test a theory I've had for 16 years.
Chester's history adventures began in the Daily Press newspaper in Newport News, Virginia, in 1995. His origin was specifically shaped by his region: As any student who has heard my Author's Purpose talk knows, I first tried a turtle as a narrator for a series of Earth Day cartoons, but the editors at the paper wanted a mascot that was more colorful and more specific to our Tidewater region of Virginia. So: a Chesapeake Bay blue crab!
And in our region, he was hit. Chester's stories grew over several years until they became a daily feature in 1999. I never let Chester's origin limit his reach. If someone wanted a really technical answer to the question of WHY a CRAB to teach HISTORY?!?!? I would mention that the Chesapeake Bay watershed covers a lot of early American history. But really, the important thing is that this crab is cute and funny and curious. Inside the stories, Chester the Crab wanders everywhere. The Chesapeake Bay is his home, but the pollutants that absorbed into his shell when he was a young buster gave him the power to travel across all continents and all centuries. Simple!
After just a few months of daily Chester stories, it was clear that teachers and students and parents loved the history adventures. How to get them beyond the reach of the Daily Press' circulation? I began shopping the stories to syndicates because I thought kids in Nebraska and Texas would be interested – for once they could see an American history narrator that wasn't a stuffy, stereotypical bald eagle. But the syndicates and large educational publishers did not agree with me. (For awhile I sent a packet of samples to Scholastic every year, trying different avenues into their corporate operation. Nothing.)
So I clawed ahead on my own. Since 2003, my business Chester Comix LLC has made books of Chester's stories and sold them across the continent. My success has pulled me to speak in front of students in Texas, Wisconsin, Massachusetts, Louisiana and South Dakota. But it's also true that most of my speaking gigs are in that Tidewater region across Virginia and Maryland and North Carolina. Hmmmmmm.
After 20 years of drawing Chester from a desk in Williamsburg, Virginia, it was time to shake things up, to REALLY test his reach. Because a decade of hammering away at this business had taught me what the great city-based cartoonist Ben Katchor just told an interviewer this month:
"[A city] is still a place to get an audience if you want to put on a concert or a show. There's a density of population that would give you an audience for a live show, and I think that's harder to do in a small town. But as far as making things and reading and studying, a lot of great universities are in small towns in America, so it doesn't make sense to be in a big city. It's the most expensive place to do a lot of work. I tell my students to find a cheap place to live for 10 years so you can at least make some work."
So that was my plan: downsize to a cheaper place near a good cross-section of school districts and then draw. And draw. And draw. Last August my Williamsburg nest emptied of the interesting young men that I had raised there, and in September my artist father inspiration muse died, and so in October I moved to a beautiful farmhouse in the quiet Ohio farmland where he and I were born.
Then there was a fire.
Then I got a really good day job in the college town where I was a toddler.
Now I'm in a temporary downtown apartment, two blocks from the hospital where I was born.
But the plan is still in effect, and soon I will set up my drawing desk again, and from there I will work harder on more stories and begin to explore American history beyond the colonial Virginia tales I have told so often (During my Virginia years I drew the Battle of Yorktown for professional publication three times!). And from this little college town in Ohio, I can easily give my Author's Purpose talks to students across Ohio, western Pennsylvania, Indiana, Kentucky . . .
There may be a surcharge to go to Michigan, though.
Posted in Author's Purpose | Comments Off on Chester the Buckeye
The Long March is OVER
Written on Tuesday, April 8th, 2014
[
permanent link
]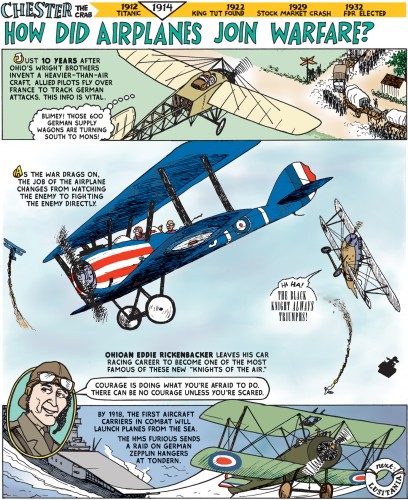 In the spring season of school talks, I often get asked how long it takes me to make a Chester comic. The answer varies widely because some of the books are just reprints of four stories I drew years ago for the Daily Press but others are created from scratch. The fastest I ever went from blank pages to a completed book was the George Washington biography I did for Mount Vernon: just a shade over four months from start to finish.
The worst I ever did was the book that just ended yesterday.
My World War 2 Tales book has sold well for many years. Boys still love to read about WW2 because it has cool technology and a simple moral structure — like Star Wars. But World War I remained the biggest gap in the timeline of my book subjects. Teachers and students struggle to understand that war because it was such a mess of obscure European politics and because the battles never really went anywhere. It was one big mudpit. But MY mission is to make such dense history into an understandable story (like I do in Constitution Construction, for example), so in the summer of 2009, I waded into the mud.
Yeah. You read that right. SUMMER OF 2009. I rough drafted the pages while sitting on picnic benches at a Boy Scout summer camp in North Carolina. The Scouts enjoyed seeing my progress from day to day and making suggestions of jokes and details to add. In the coming months I drew the pages in finished form, and by Labor Day of 2010 I had the children of friends coloring in the pages on my computer. All good! The heavy lifting was done!!! But the more we all nibbled at it, the farther the finish line seemed to pull away into the distance.
What happened? This book got sucked into the very sinkhole that I warn young artists about: a never-ending fussiness that swallows you up when you don't have a stated deadline. For my whole career I've been able to punch out something decent in a defined time — the hallmark of newspaper cartooning — but this was a book driven by just me. And for once my drive sank into the complex details of the pages, and I got stuck. All I had to do was finish coloring this British uniform or that map or the German veteran in the last panel on the last page. But I couldn't muster the care and attention to detail that it takes to finish art that is historically accurate.
There were plenty of excuses to point to. It was easier to indulge my curiosity elsewhere than to knuckle down on finishing the details of the WWI book. My creative hours got crunched when I began contract work at Historic Jamestowne in January 2011 so I could get paid while learning the latest historical discoveries for 17th century America (I'm still out on the island and having a good time — last weekend we married off Pocahontas on the 400th anniversary of her wedding!!). Then I got a contract to do a book about Oberlin, Ohio — my home state, and a town with a lot of cool 19th century history that I hadn't drawn before. Then I got a contract to do a book about Lexington, Massachusetts. And then contracts to draw for Colonial Williamsburg. And when someone brings you a check to draw new stuff, you take the check.
That's why "the cobbler's children have no shoes." Once I got distracted, it was hard to find a clear direction out of the WWI mud. This spring — goaded on by my son who was at that Scout camp in 2009 (who is now a HIGH SCHOOL JUNIOR) and by the oncoming 100th anniversary of the start of World War I (THIS AUGUST!!!) — I pushed through to finish the book. Every one of those Scouts and kids who helped me years ago is going to get a free copy of this comic.
If I can track down their college dorm room addresses . . .
Posted in Author's Purpose | Comments Off on The Long March is OVER
KICKSTARTER CRAB
Written on Wednesday, November 27th, 2013
[
permanent link
]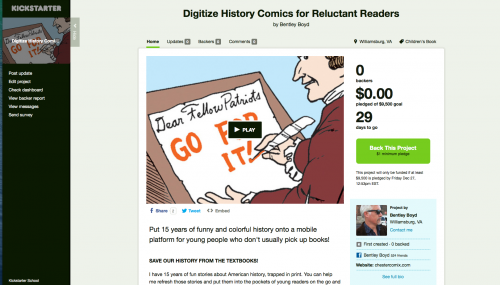 And to finish off the 10th anniversary year of Chester Comix: A PLEA FOR MONEY!
No, see, this really does make sense. Chester Comix LLC launched in 2003 with generous financial help from many friends and family members. And a few credit cards. The business has continued to grow with important and timely support from many sources. Revenues have climbed steadily, but the capital expenses are big — when you have to spend $12,000 to reprint just four of your 31 titles, the search for $$$$ is ongoing.
So it's been obvious for several years that MOBILE is the answer. Selling stories that don't require me to print on paper and ship books in boxes is a good way to smooth out the revenue stream and expand Chester's audience. And tablets and smartphones are where many of today's reluctant readers are actually reading (texts, social media). In 2010 I got three Chester stories into iTunes to be read on Apple's iPhones and iTouches. In 2011 I got eight of Chester's books into iBooks for Apple's iPads.
But that's not enough. I have more than ONE HUNDRED stories in my printed comix that I could turn into fun stories on smartphones. For the past two years I've been drawing new panels for those stories to add MORE jokes and MORE fun details that the textbooks miss. But as I gleefully drew, the technical requirements to get these stories onto the iPhone got thornier and thornier. It became like Gatsby's green light or Ahab's whale — the goal that remained stubbornly out of reach the closer I got to it. An Apple rep told me last summer what it would take to build on the existing Chester story apps. His solution requires more intense programming. And that requires more money.
So: KICKSTARTER. Kickstarter is for artists what venture capitalists are to Silicon Valley. It's crowdsourcing — a way for me to raise small amounts of money from fans far and wide and add them into a big project. I love that part of the Kickstarter model is that I give the supporters unique rewards. Check out the link to the project to see some of the fun (everything from free copies of the stories we make to signed copies of full Chester pages to a drawing of yourself in one of the stories!).
The other big part of the Kickstarter model is that the projects have a limited time to raise the funds. We have 30 days. LET'S GET IT!
Tags: comics, history, iPhone, Kickstarter
Posted in Author's Purpose | Comments Off on KICKSTARTER CRAB