Archive for 2013
Keeping Up With the SOLs
Written on Thursday, September 19th, 2013
[
permanent link
]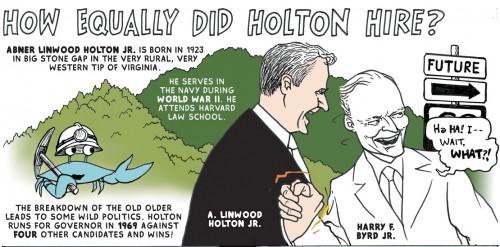 So this 10th anniversary year of Chester Comix has seen a brand new title ("Lexington, Then and Now" published in February) and will see more new features by the end of December. That's the easy stuff. This year also features my commitment to go back and redo what must be redone.
"Vital Virginians" was published in the second round of Chester Comix titles, way back in 2004. It's a book specifically built to help teachers of Virginia Studies in fourth or fifth grade classrooms across Chester's home state. (uhhh, actually, Chester's "commonwealth." I'll explain another time!!!!) Because it's a book tied to just one state's curriculum, it doesn't sell as quickly as books with broader appeal, such as the Civil War titles or "Wonder Women" or "Comix Economix."
This year is the first reprinting of "Vital Virginians" since it first came out in 2004. The list of names of important Virginians that little Virginians have to know in Virginia Studies studies has changed. So a revision of the book was in order. I've spent September adding a full page on civil rights lawyer Oliver Hill (using panels I drew for a teacher in-service in Newport News two years ago), I dug back into my archives of pieces and parts to fashion a new page on first African-American governor L. Douglas Wilder, and I drew from scratch a whole new page about Linwood Holton, the first Republican governor in Virginia since the Reconstruction Era just after the Civil War.
It's fun to go back to topics I drew for the Daily Press 10 and 12 and 15 years ago and draw something fresh. I like the way the three new pages weave together in the connections of the three people (for example, Wilder came to the state government as a state senator the same year that Holton became governor). The new edition of "Vital Virginians" should be available in a few weeks. Let a Vital Virginia Teacher know!
Posted in Author's Purpose, Comix Creation | Comments Off on Keeping Up With the SOLs
Boxes in the Bedroom
Written on Wednesday, February 27th, 2013
[
permanent link
]
In this 10th anniversary month for Chester Comix LLC, when I say I'm proud that my business survived the Great Recession, I have a specific measurement of that.
Boxes.
Nothing matches the thrill of getting the first shipment of your product. For Chester Comix, the first 10 titles (50,000+ books) came off the presses in April 2003. They went right to the Richmond ARC warehouse in Richmond, Virginia, for bagging and storage. A year later seven more titles and 35,000 more books came off the press, and the whole inventory moved to another Richmond warehouse that better met our shipping and storage needs.
At about 100 comix per box, that's a lot of cardboard to move around.
When the Great Recession hit, school budgets got slashed. By the spring of 2009 it was clear the business revenue stream could no longer sustain the cost of warehousing in Richmond. I found a climate-controlled self-storage unit in Williamsburg only two miles from my house. I bought planks from Home Depot to set on cinder blocks for shelving. And then I started lifting boxes.
For three days. I jigsaw puzzle-packed them into an agency van loaned by a friend (and then the trunk of her car for the last load out of town, as the sun was setting one day). Back and forth, back and forth to Richmond. Was it five round trips or six? It's a blur. The boxes quickly filled the self-storage unit. But I had more. So boxes went into my garage, of course. But boxes also went into the closet where I kept Cub Scout stuff and Halloween costumes and binders of old cartoons. Boxes went into the front closet where guests' coats hang. Boxes went under the boys' bunk bed. Boxes went into the Christmas closet in their room. I was living on top of my investment. To save my business, I turned my house into cardboard.
We've got the inventory under control now. In my house in 2013 the boxes live only in the garage and the guest bedroom ("The Chester Comix Fulfillment Center"). The aroma of cardboard no longer drifts through the house. But whenever a new set of boxes comes from the printer and a few of them land in the trunk of my car, my son can pick that fresh cardboard smell out immediately . . .
Posted in Author's Purpose | Comments Off on Boxes in the Bedroom
10 Year Anniversary
Written on Sunday, February 3rd, 2013
[
permanent link
]
The business license from the Commonwealth of Virginia came in the mail February 2003. I celebrate a decade of business this month with my 32nd title and a pile of thankfulness to the friends and family who have supported me every step of the way. Chester and I have survived some missteps, hundreds of miles of travel to conferences, and a Great Recession that hit our main target audience (public schools) particularly hard. Why did I keep going?
Most of the people who start their own business fail. A savvy friend who loaned Chester Comix LLC money at the very beginning noted that this was my "Defending Your Life" moment. Check out the movie sometime — it's a funny look at how important it is to be brave in the face of the conventional wisdom to play it safe and keep your crayons within the lines. And her reference to that movie was a huge compliment that kept me going through some scary times.
They were scary times because I couldn't see around the corner, not because I was unsure of my own footsteps and the direction I was walking. I believe to my core that I was put on this planet to do Chester Comix. I've been doing it the best I can — first as a newspaper cartoonist from 1995 to 2004 and then as my own publisher from 2003 until now. I often think what a weird set of skills it takes to do this work — and marvel at how my life has included training for those skills — how the pieces all brought me to this life I have now . . .
* CARTOONING. I didn't study art as a major in college — I've studied it my whole life. I taught myself to draw by copying Peanuts out of the newspaper. My dad was an art professor, and my parents took me to a lot of art museums as I grew up. Art was not an oddball career choice. It was accepted and encouraged. You'd be amazed at how important that is. When I started to draw my own superhero comix in elementary school, my dad got them copied so I could sell them to my friends. Chester Comix LLC is just a more elaborate form of that work I was doing in 4th grade.
* WRITING. Schools make all of us practice writing all the time, of course. But I went further. I started keeping a journal in 5th grade and was on the school newspaper in elementary, middle and high school and then in college. That's where I got encouragement to write for a public audience — a big barrier for many people. I picked newspapering because it allowed a broad range of creativity and seemed to have a lot of job security (every town has a newspaper, right?). The Internet crushed that — but not before newspapers taught me to brave enough to write publicly and write well on deadline.
* PUBLIC SPEAKING. I did debate in high school because my friend Amy did. But in the process I found a family of friends there and learned to face a big audience and think on my feet to speak extemporaneously. I think about that training every time I talk about my work in front of 350 kids in a school cafeteria. (And it's fantastic when kids tell me that I'm much more interesting than other authors who get up and drone on; it's all due to my debate training at Brookings High School with the incomparable Judy Kroll. Well, that and my love of Steve Martin.)
* RESEARCH. Majoring in History and Literature at Harvard University was a great excuse to buy the books I wanted to read anyway and take time to dig for details in the papers I wrote. My work-study job for four years was inside the school's rare books library. That love of reading and research is the starting point for every story I tell at Chester Comix. Chances are, over my morning cereal I'm reading a historic academic journal I found in a used bookstore.
* MARKETING. This is an off-shoot of the newspaper work. When Chester ran in the Daily Press of Newport News, VA, I was just as involved in the marketing of the feature as I was in writing and drawing it. I'm comfortable in social media and thankful for all the tools I can wield myself to promote the business now (many of which didn't exist in 2003!).
* STUBBORNNESS. The key. I spent the summer after my high school graduation working for my father's weekly newspaper in Ohio. When the staff floundered a few months later, I took a leave of absence from my freshman year at college to keep the paper running until my father's permanent return to Ohio in the summer of 1986. In that experience I learned hard and valuable lessons about being a small business owner. No one will ever care about your business as much as you do. No one will be addressing samples letters on a Friday night with you. But if it's what you believe in, you do it gladly.
I believe in Chester Comix. Thank you for all your support over the past decade. I look forward to more storytelling and more success in the next one!
Posted in Author's Purpose, Comix Creation | Comments Off on 10 Year Anniversary