In these days of remote learning, it's more vital than ever to tell you that my apps do not collect personal information. Chester Comix does not share any customer information with any third party, there are no embedded links to outside websites, and there are no ads. We don't even send notifications to previous customers. My app full of fun history stories is as clean as any app can be!

That's the way I want it. I breeze past all the offers to add ads onto my app. My app isn't a game. It's not a hyperventilating circus. It's actually a quiet space to read.

Quiet reading is more important than ever. I've enjoyed this year's quiet time to create. Decades ago I wrote quickly, in busy and loud newsrooms, and after that I created Chester stories while my sons watched noisy Saturday morning cartoons in the next room over. But now, at 53, my best writing comes in a completely silent and private space. The silence helps me sort through years of personal experience and research. Sometimes there is even an afternoon 10-minute nap, and when I wake up, that little moment of quiet rest has produced a new clarity in the story I'm writing or a new visual joke for Chester to make.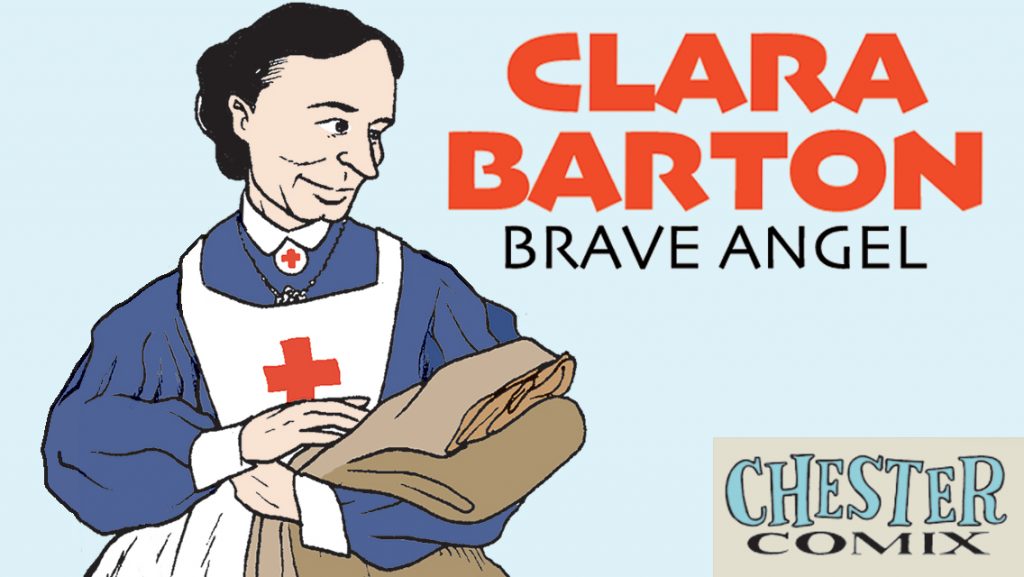 Of course I feel the stress of this public health crisis like so many people do, and I miss visiting my sons and going out to socialize at fun spots in the city. But this a very quiet crisis, for me. Right now I don't really live in Cleveland; I live in my apartment. (It helps when I imagine my apartment as a space station, and by those standards this silent space is quite comfortable and peaceful.)

Or maybe my apartment is a time machine? I am surrounded by history in the form of my beloved books, photos, and research documents. God put me on the planet to help modern people meet people of the past and thus draw inspiration and hope from them. I translate moments in time, from one era to another. I knew when I moved to take a job in Cleveland last summer that my new life would give me the most time and space to work on my history comix that I have ever had. The COVID-19 pandemic has only intensified the work plan I have followed since August 2019. This time of isolation has given me more hours to do what I was already doing in the evenings and weekends after my day job at the Cleveland Museum of Art.
This spring's private time has already produced two newly revised Chester stories. There will be more soon. I am thankful to all those who helped me over the past seven years to build a smartphone platform to publish these stories. It's a perfect delivery system for a time of social distancing. And it's a great deal. If you ever bought a printed Chester Comix at a museum store for $6.95, you got four stories of about 40 panels each. That's 160 panels of colorful storytelling. If you spend that same amount of money in the Chester Comix smartphone app, you will get seven different stories of about 80 panels each, or 560 panels of storytelling! I keep giving more because that's what I'm meant to do — MORE STORYTELLING. And these new comic panels go straight from my virus-free computer to the phone or tablet in your house.
This is a misty-eyed way for me to get to an official statement of the Chester Comix privacy policy, which some of my app store vendors say I need to have. The Chester Comix policy is simple: I am using the benefits of my private time in quarantine to help your family study history and government in yours. The Chester Comix app does not gather your personal information to report it to me or to any other company. The few pennies you spend on the stories in my library are all that I get out of this exchange. And once you buy a Chester story on the app, it's yours. There are no ads, and there is no ticking clock that makes the content expire. Chester's app is not a loud carnival game. It's a library. You can feel safe when your children access this educational content.
I keep giving more in this exchange because I believe the saying: the best education is one that continues throughout life. We're all experiencing the truth of that saying in a heightened way now. Families are learning new things together while in isolation. Learning doesn't stop after you get your high school or college diploma. The world changes rapidly, and the challenges grow and mutate. Adults of 25 or 45 or 65 years have to stay on their toes and take in new information all the time. I hope that Chester's historical content inspires people and gives a young person a solid foundation upon which to build that lifetime of learning.
This entry was posted on Sunday, April 12th, 2020 at 2:04 pm and is filed under Author's Purpose. You can follow any responses to this entry through the RSS 2.0 feed. Both comments and pings are currently closed.