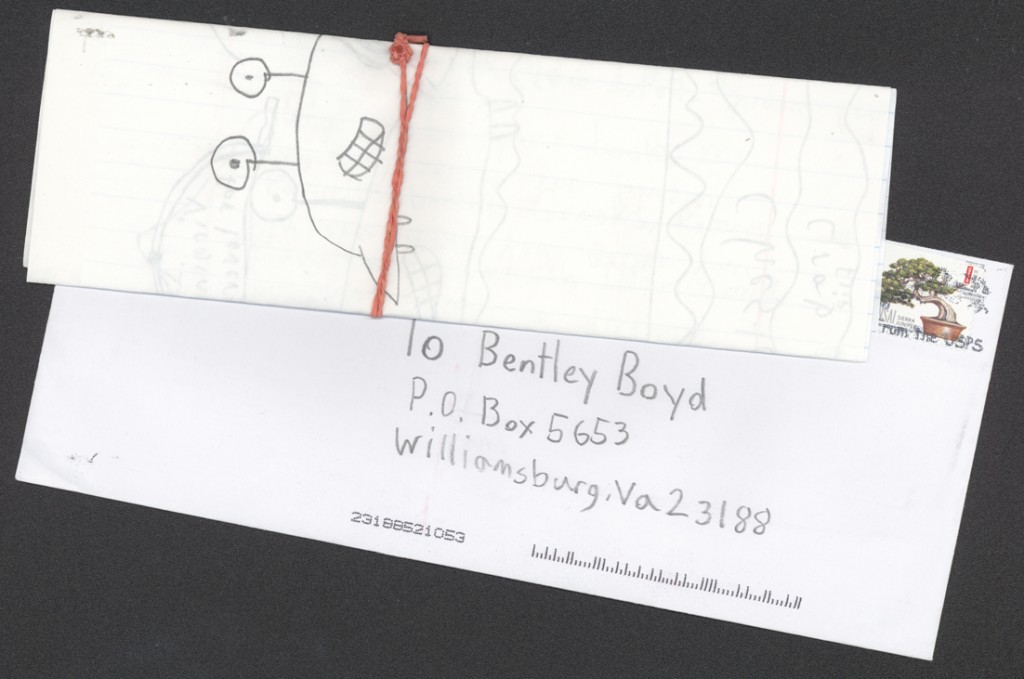 Every day I make my pilgrimage to the post office to check the box for new orders for history comix or for checks that pay for previous orders. Some days I get something even better.
Today I got this. The letter and drawings from 10-year-old Donald made me so happy. There was no money in the mailbox today. There was no way to ship out new comix without waiting in line for 40 minutes amongst the holiday shippers. But Donald sent me a gold mind. He sent me a gift that came from his energy and passion and time. His love of Chester reminds me how important my work is. I love working for myself, and it's nice to make enough money to buy iPhone apps whenever I want to, but a big part of the payment I receive for my work is the feeling that I am inspiring my young readers — inspiration to learn more, inspiration to love the nation and culture of America, inspiration to create their own stories.
Inspiration works both ways. Just yesterday I was back in the elementary school that taught my two sons over a 10-year period. I went into that building to volunteer in their art classes almost every week during those 10 years. I read my favorite childrens books to their classes at storytime. I played on the playground with them. The family of teachers at this school were so dear to my oldest that we had to drag him out of there after fifth grade as he protested that he wanted to graduate from high school there. Now that son is in college. Once a year I retrace my steps up to the front door in a kind of homecoming: the teacher who had my youngest in her gifted writing class asks me back every December to speak about my author work to her current class of gifted writers.
And they inspire me. Yesterday's session was a great give-and-take with the authors of the future. At one point they were champing at the bit to draw so much that I stopped talking and let them draw, to see what they would create. They had ideas and knowledge and fearlessness. Grownups can get worn down by daily To Do lists and can give in to doubt. Connecting with creative kids is an electrical jolt that propels me forward in my own storytelling.
Thanks to all the young people who dare to be great. You are my heroes 😉
This entry was posted on Saturday, December 15th, 2012 at 3:35 pm and is filed under Author's Purpose. You can follow any responses to this entry through the RSS 2.0 feed. Both comments and pings are currently closed.