About the Author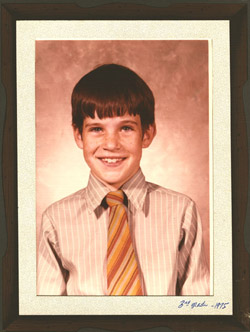 There was no class at Harvard University to learn how to draw a talking crab on Thomas Jefferson's shoulder.
I chalk up my current dance in a felt crab hat to a wonderful mix of curiosity, hard work and desperate classroom need. Drawing historical comix is a great blend of both sides of my brain, one housing the Nonfiction Geek and the other the Pop Culture Cartoonist. And I love seeing the impact I have when reluctant readers find a Chester adventure they enjoy.
When I was growing up I didn't think we'd ever really get to live in a science fiction world with a video screen on every corner and in every pocket. I prepared for a life in print. I devoured the daily newspaper before I delivered it every morning for nine years. I read biographies all summer long. I wrote fiction for myself and nonfiction for the school newspapers. I drew my own comix (and quickly realized I don't have the patience for drawing the complicated city skylines for a Batman comic book).
Doing cartoons about political topics seemed a good way to express my interests in politics and history.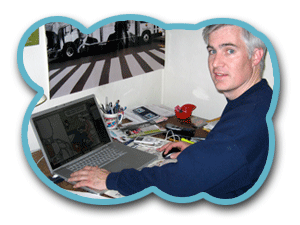 So I contributed cartoons about hot issues like the size of school lunches for my high school newspaper in Brookings, S.D., and continued that in college, where I drew daily editorial cartoons for three years. My cartoons for the Harvard Crimson were syndicated throughout New England and earned me the first Al Cap Satire Award given at Harvard. I graduated cum laude from Harvard in 1990 with a degree in History and Literature, focusing on Colonial America.
I worked two years in Mansfield, Ohio, just up the road from the town where I was born, Mount Vernon (home town of Paul Lynd, the center Hollywood Square when I was growing up!). In 1991 I won an Ohio Associate Press first place award for editorial cartooning.
I moved to Virginia in 1992 to report and draw for the Daily Press in Newport News. I explored the issues of Hampton Roads through my "Boyd's Eye View" political cartoon from 1994 to 1999. It was fun to draw a daily cartoon from my home office as I raised my sons, Samuel and Truman.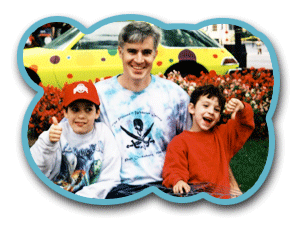 In the middle of that, the newspaper asked me to draw a few cartoons for a big series honoring the 25th anniversary of Earth Day. I created Chester the Chesapeake Bay blue crab to be my narrator – and we caught adults reading the strips. That experience reawakened earlier thoughts I had about teaching. My parents were both teachers (art and music), and some of my middle and high school teachers had been some of my best friends and biggest influences. Now I had a chance to use my cartoons to teach instead of just comment, and I ran as fast as I could through that opening.
Chester was a weekly feature from 1997 to 1999. Then, when the Standards of Learning tests came along and put a lot of pressure on teachers, my editor asked if I would draw Chester daily and cover SOL requirements. I quickly suspended "Boyd's Eye View" to draw more Chester. I did all the research, writing and drawing on Chester. It felt like the fulfillment of all the reading and thinking and drawing I had done in my life. I had a job that paid me to read books in the library every summer!! The Daily Press paid for a committee of teachers to review each of my scripts and make sure they would help in real classrooms. The teachers and I learned a lot from each other and produced five years of fantastic stories.
In 2003 the paper gave me permission to reprint those stories in book form. So far I've published 21 Chester Comix and collected the 2003 Virginia Council for the Social Studies Friend of Education Award.
I continue to live in Williamsburg, Virginia, with my two sons and can frequently be seen wearing a blue felt crab hat in schools!

Bentley Boyd, Illustrator
Owner of Chester Comix, LLC