Archive for the 'History Book Review' Category
Book Review: Mr. Lincoln's T-Mails by Tom Wheeler
Written on Friday, August 29th, 2008
[
permanent link
]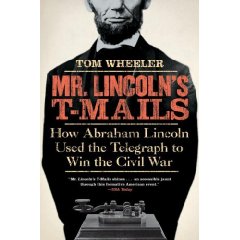 I enjoyed all the comparisons between Barack Obama and Abraham Lincoln made at the Democratic National Convention this week. If anything, Lincoln was LESS experienced at the time of his election than Obama is now: Lincoln had only one 2-year term in the House of Representatives and was a complete dark horse candidate at the Republican convention in the summer of 1860 and a shock to the East Coast establishment when he got the nomination.
Get ready for a lot more Lincoln – next year is the bicentennial of his birth, and a nationwide commemoration of the 150th anniversary of the Civil War will also gear up next year. There's going to be a lot of blue and gray around, and I'm preparing to do a comic entirely on Honest Abe!
As research for that, I just finished reading Tom Wheeler's "Mr. Lincoln's T-Mails." Wheeler's thesis is a fine one — that Abraham Lincoln's use of the new technology of the telegraph mirrors our own experience with the new form of communication we call e-mail — but this book reads more like a long piece in the New Yorker than a book. He repeats his thesis over and over rather than to push his analysis into secondary or tertiary levels of description of how lightning-fast communication could be manipulated for the sender's purpose. A decade into the e-mail practice, we all know now how e-mail can be used or NOT used to get a point across to friends, co-workers, bosses or others. There are glimmers of this kind of analysis in Wheeler's book – such as when he notes Lincoln's own perceptive view that a telegraph message ranked below a handwritten letter and far below face-to-face talking in its effectiveness. That hierarchy of human communication still exists today!
But more often Wheeler's book is a simple review of the events of the Civil War. And a great reminder of what a jerk Union General George McClellan was! This is a fast read that could have moved a little more slowly than the speed of Morse code.
FUN PASSAGE:
"It might be argued that the telegraph's intrusion had sapped (General) Hooker of his authority. Clearly he was frustrated, observing to a fellow general that dealing with Lee 'had occupied two hours of his time each day, Washington had required the remainder.'"
Tags: Abraham Lincoln, Bentley Boyd, Chester the Crab, Civil War, history, telegraph
Posted in Civil War, History Book Review | No Comments »
Book Review: Measuring America by Andro Linklater
Written on Monday, August 11th, 2008
[
permanent link
]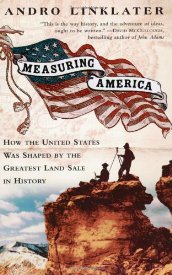 I just spent a week in the Blue Ridge Mountains at Boy Scout camp with my youngest son, Truman, and while he was off practicing first aid and woodcarving I got to sit under the cool shade trees and read! (Yes, yes, I also recertified in Red Cross CPR and kept a watch on all the Scouts, but the chance to sit and read quietly away from any computer or deadline was a real treat!)
One of the books I read was this study of how measuring expressed populism, economics and democracy — a book that sounds horribly dull until you start reading it. This was a mirror image of Dava Sobel's popular "Longitude" book from 1996 — but better. Linklater told me things about Jefferson I didn't know and wrapped politics and big ideas and economics into the simple act of surveying land. (This book gives you a great feel for how the young George Washington surveyor image connects with the old George Washington land speculator.) I was taught in college all about Jefferson's belief that a nation of small farmers would preserve our virtue and our democracy, but this narrative connected all that to my gradeschool lessons about the metric system in the 1970s! And I'm from Ohio, so Linklater's opening passage that set the action in the Northwest Territory was particularly fun. And he never forgets the Native Americans who inhabited the land before the settlers started marking the trees and claiming the streams, so he keeps the book from shrinking into just European intellectual history. (Don't worry – the ideas are big, but the many illustrations help the story speak in a language that a modern reader understands.)
The only trouble is: Linklater gets at least one big, basic fact wrong, and that calls me to question every single absorbing detail he offers in the book. This English author tells us in two separate passages that Jamestown was founded in 1609. No. It was 1607. What else so basic did he miss?
(His story is further hampered by the book jacket, which sets the expectation that this will be about "How the United States Was Shaped By the Greatest Land Sale in History," which caused me and friends to expect something about the Louisiana Purchase. But Linklater is not talking about the greatest land sale, he's talking about the greatest land SURVEY, which converted America's vast public lands into private property. It's not one sale, it's millions and millions of sales in individuals. That's not Linklater's fault but the marketer's.)
| | | |
| --- | --- | --- |
| | «   Follow along the Creative Trail!   » | |
Tags: Bentley Boyd, Chester the Crab, comics, history, Measuring America, metric system, Thomas Jefferson
Posted in History Book Review | No Comments »
American's Back!
Written on Thursday, February 7th, 2008
[
permanent link
]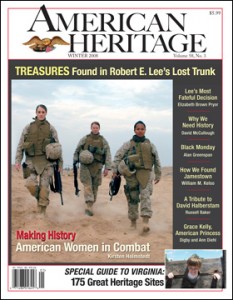 A few weeks after I posted a blog here about the death of the magazine American Heritage, I was wandering through my local Barnes and Noble and the American Heritage logo jumped out at me! It's BACK!!
Editor Edwin S. Grosvenor has reinvented it as a quarterly magazine pushing History in the headlines – just look at that cover of women soldiers in the Middle East! Throughout the mag there is a push to use History to understand what the news is now.
I'm happy to see print isn't dead. But there's no mistaking the priorities here. The mag is now published only a third as often as it once was, and it really becomes a glossy marketing tool for the staff's website (which carries the tagline "History's homepage"). The good news is that the mag and the website are in step in their new, lively dance. The website features:
* the news of actor Heath Ledger's death because he starred in the well-received historical movie "The Patriot"
* easy-to-find blog entries, including one about how to volunteer on an archaeological dig at Mount Vernon
* news of the rediscovery of photos of Lincoln's second inauguration, which had been mislabeled long ago
It's a great resource for teachers making the case to students that History is new everyday. It's been a great resource for me! www.americanheritage.com
Tags: American Heritage, Bentley Boyd, Chester Comix, historian, History's Homepage
Posted in History Book Review | 2 Comments »